Padres set deadline for Rea's rehab program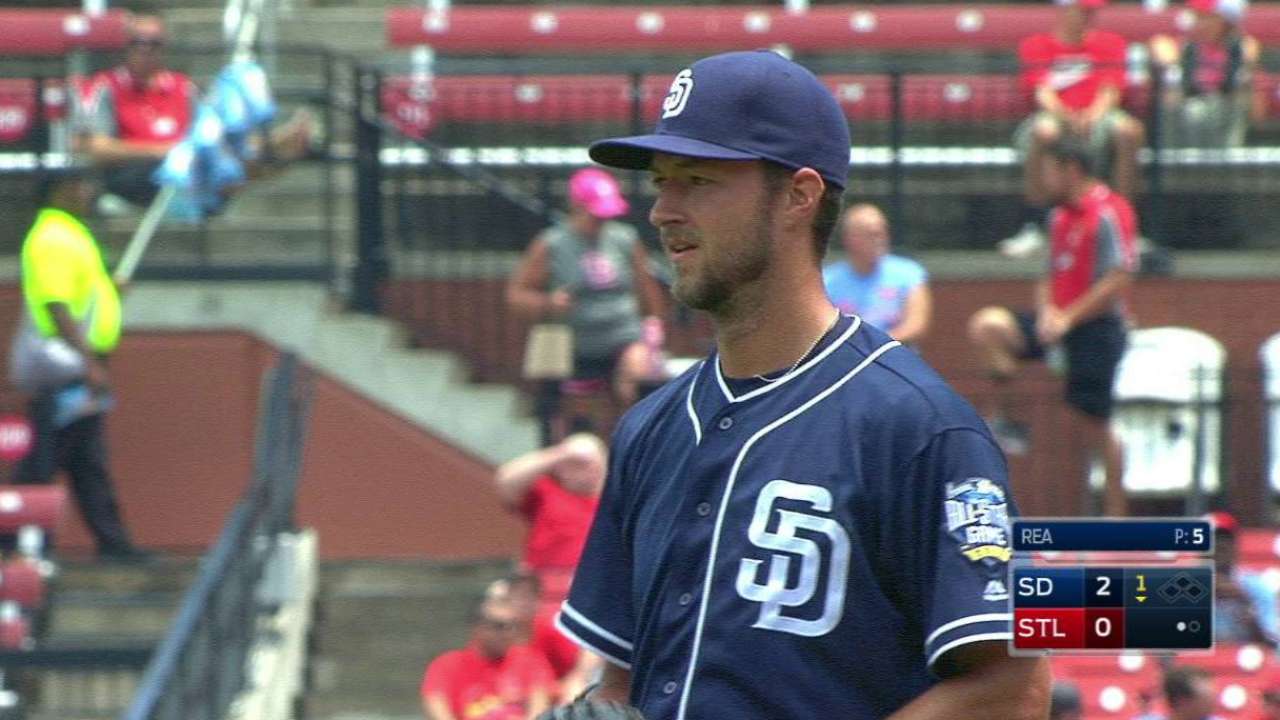 SAN DIEGO -- Padres right-hander Colin Rea, who suffered a partially torn UCL in his right elbow in July, has resumed throwing with the hope that he'll be back to full strength by the beginning of December.
The Padres have set a Dec. 1 deadline for Rea's return to health. If he doesn't meet it, Tommy John surgery appears to be the most likely course of action.
Initially, Rea opted to avoid surgery, instead receiving a platelet-rich plasma injection on Aug. 18. The Padres view his current rehab as something of a no-lose situation, because if his recovery hits a snag, December surgery would force him to miss one season -- just as it would have in August.
That's also why they've set a deadline.
"We'd love to come to a conclusion by the first of December, at the latest," Padres manager Andy Green said. "That gives him ample opportunity where if he does end up missing the following season, he's going to be able to recover [for 2018]."
Rea was initially part of the July 29 trade that sent Andrew Cashner to the Marlins. He made one start in Miami, where he injured his elbow, before the two teams worked out a separate deal which sent Rea back to San Diego in exchange for pitching prospect Luis Castillo, (who also was a part of the original trade).
Initially, surgery appeared to be the most likely course of action, but Rea's progress has encouraged the Padres. He threw from 45 feet on Thursday, as he continues to build strength. The club would like to see Rea in a competitive environment, and Green said the Arizona Fall League is a possibility.
"It's a step in the right direction," Green said. "That program will carry on, and we'll continue to talk about how far he moves and if we choose to let him pitch in any competitive-type setting before we shut him down for the offseason."
Prospects could impact pennant races
Four recent callups were in Thursday's starting lineup for the Padres, and the quartet will continue to receive significant playing time through the end of the season, Green said.
The Padres play host to the Giants and Dodgers over the next week, both of whom are in the postseason hunt. Green rejected the notion that he's under any obligation to play his veterans with postseason spots on the line for his opponents.
His reasoning: The youngsters might actually give the Friars the best chance to win.
"We don't know what these guys are on the baseball field yet," Green said. "But if they come up, they swing the bats well, they're going to be a big part of our future. To deprive them of an opportunity to play at the Major League level, because we supposedly have to put our 'A' lineup on the baseball field -- this might very well be our 'A' lineup."
Padres No. 3 prospect Hunter Renfroe -- who made his first start on Thursday along with Manuel Margot and (No. 2) Carlos Asuaje (No. 20) -- wouldn't have it any other way.
"I feel like that's probably the best way to do it, to go right in there and face the best," Renfroe said. "You're going to either fail or you're going to blossom. It's good to see that real quick."
Quotable
"One of the coolest things as a fan, a manager, a coach, or anyone who's watching the game, is that you're witnessing a lifelong dream culminated in a moment. You can feel it. That's so much fun to see the smiles they can't contain when they get their first big league hit. Hopefully we see three first big league hits today." -- Green
AJ Cassavell covers the Padres for MLB.com. Follow him on Twitter @ajcassavell. This story was not subject to the approval of Major League Baseball or its clubs.