Padres eager to see Renfroe in a longer look
Rookie right fielder showed promise at end of 2016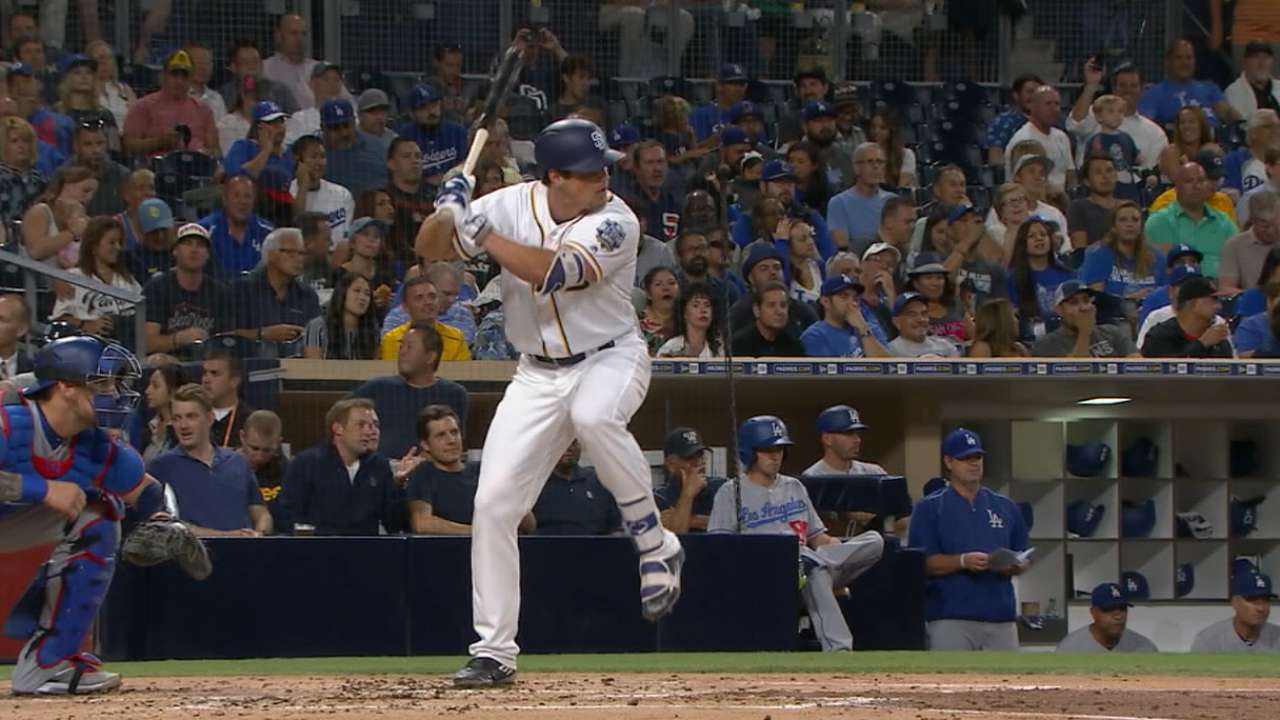 With Spring Training on the horizon, MLB.com is taking an in-depth look at the 2017 Padres, breaking the team down position-by-position. Today, we preview the San Diego right fielders.
SAN DIEGO -- The 2016 season didn't go as planned for the San Diego Padres. But the lasting image left by right fielder Hunter Renfroe brought hope for a much brighter future.
That image won't soon be forgotten in Padres lore:
Dodgers' right-hander Jose De Leon tried to sneak a low-and-inside fastball by Renfroe. To some extent, he executed the pitch, which was about six inches off the inside corner and knee-high.
• Around the Horn: C | 1B | 2B | 3B | SS | LF | CF
Renfroe feasts on it, demolishing the pitch onto the roof of the Western Metal Building in left field. In doing so, the 24-year-old playing only his seventh game becomes the first player in Petco Park history to reach the roof during a game.
"We got a quick glimpse of who Hunter Renfroe is last year at the big league level," said Padres manager Andy Green. "With that short look, you saw the raw power that exists there. You see a guy that anybody can look at and say: 30-plus home run potential on that bat right there."
• Spring Training: Info | Tickets | Schedule | Gear
It appears very likely Renfroe will get a chance to showcase that power in 2017. He's poised to take over as the starting right fielder and will get the chance to build on two fantastic weeks in the Major Leagues to end the '16 season.
After being called up in late September, Renfroe, 25, batted .389 and slugged .800 with four homers and three doubles. That performance came on the heels of his winning a Pacific Coast League title with Triple-A El Paso and MVP Award.
Of course, Renfroe's first stint in the Majors could also be foretelling in a less flattering way. In 36 plate apppearances the righty-hitting slugger walked just once -- an intentional pass in his first trip to the plate.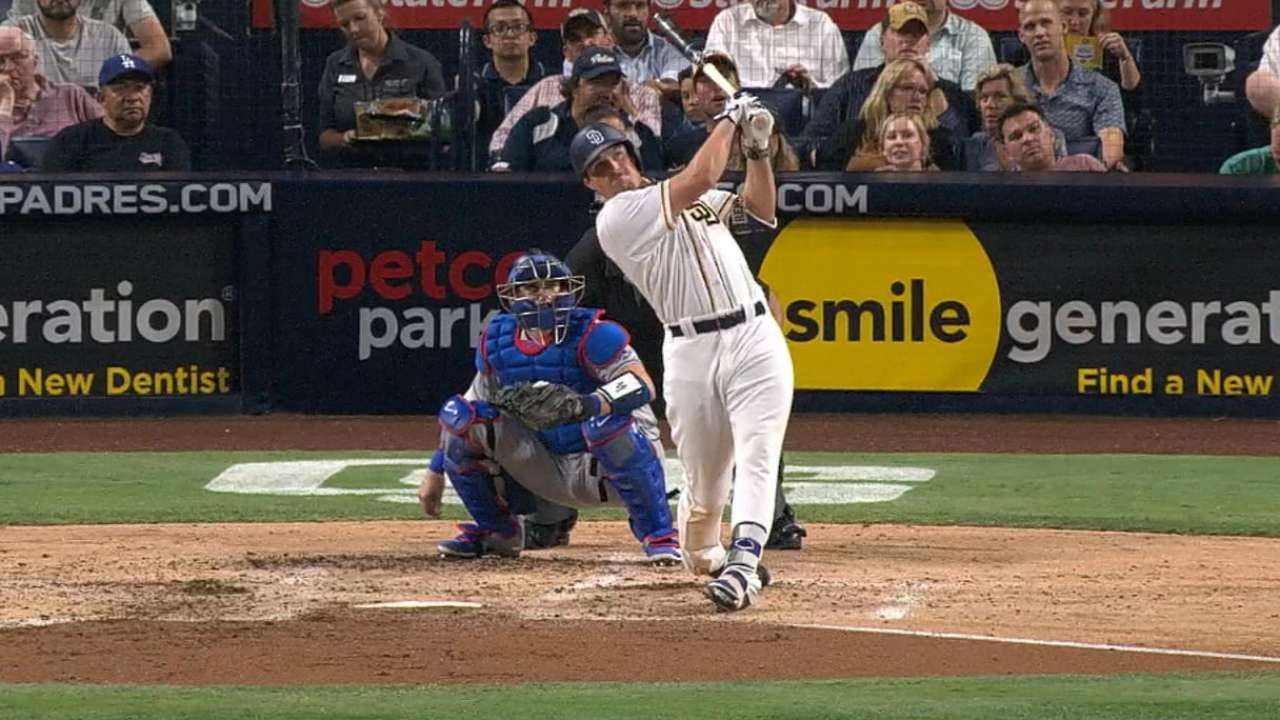 Many are skeptical of Renfroe's low walk rate, and for good reason. Throughout his Minor League career, he's reached base at a .330 clip. On the surface, it would seem that Renfroe's power should scare pitchers away from the heart of the plate. But he does himself no favors when he swings outside of the zone.
Scouts feel Renfroe has some holes in his swing that need to be fixed. But the former first-round pick from Mississippi State should finally get his chance to answer those doubts. (Jabari Blash could also compete for playing time in right field. But he'd serve as Renfroe's backup, should he make the roster.)
In any case, Renfroe is going to be eased into his starting job. The Padres are planning to use four outfielders to fill three spots, rotating days off among them.
Early indications are that Renfroe will be joined by fellow rookie Manuel Margot, along with Travis Jankowski and Alex Dickerson, who just finished their rookie seasons as well. The Padres hope that's a core that will be in place for years to come.
"As we grow, those are going to be four young guys that are going to be part of this organization for the foreseeable future," Green said. "Any organization would love to have any one of those guys."
Projected starter: Renfroe
Potential backups: Jankowski, Margot, Christian Bethancourt, Blash
Top-30 prospects: Margot, No. 2; Michael Gettys, No. 10; Jorge Ona, No. 13; Buddy Reed, No. 14; Nick Torres, No. 26; Jeisson Rosario, No. 30
AJ Cassavell covers the Padres for MLB.com. Follow him on Twitter @ajcassavell. This story was not subject to the approval of Major League Baseball or its clubs.