Padres reliever Capps on track for '17 opener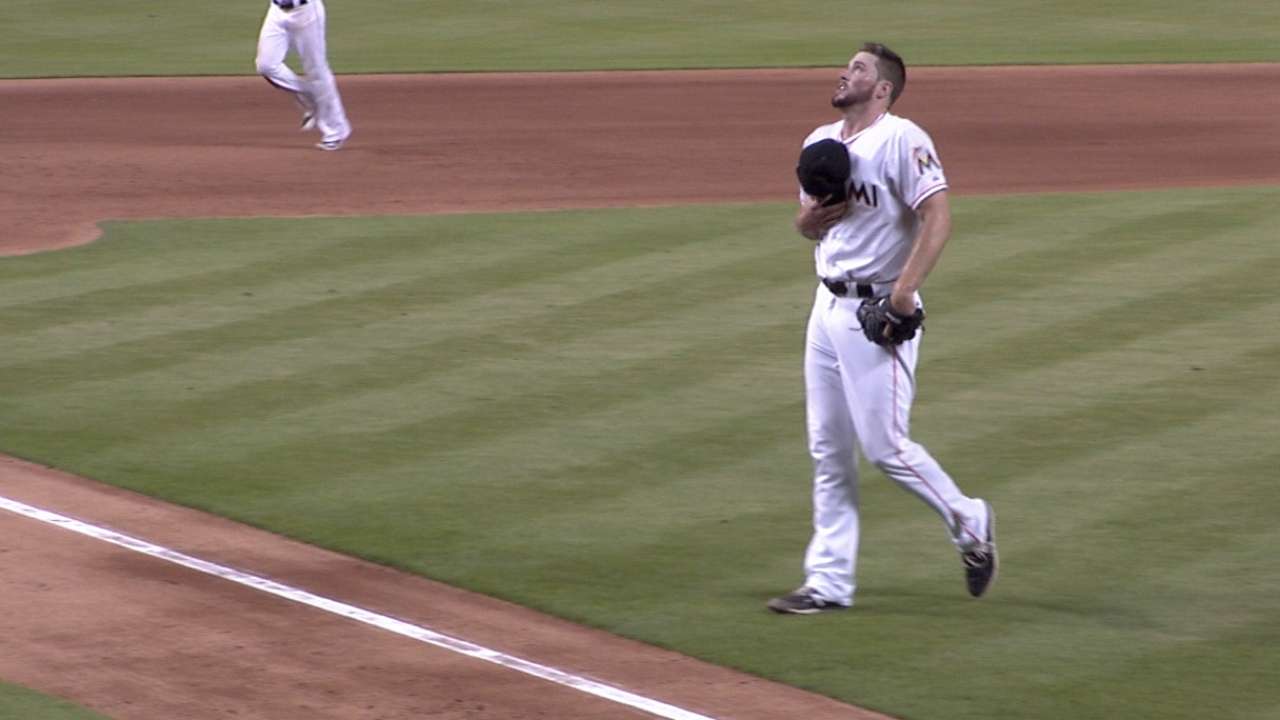 PEORIA, Ariz. -- On the first day of his recovery from Tommy John surgery last year, Carter Capps set a goal.
"March 8, I had surgery," Capps said. "March 9, I wanted to be ready for [the following] Opening Day. I knew I was going to miss that season, but I really wanted to push the envelope, attack the rehab and get after it. That was always my goal, to be ready for Opening Day."
As of Wednesday -- the first workout day for Padres pitchers and catchers -- he's on track. Capps, who will compete for the closer job, threw a bullpen session, his sixth since returning to the mound in January.
• Spring Training: Information | Tickets | Schedule | Gear
Capps is on pace to pitch in games by the second week of March, putting him in line to reach his lofty goal. It's somewhat rare for pitchers to return from Tommy John surgery in fewer than 14 months, and he's ahead of schedule by industry standards.
"I don't particularly like to use that term 'ahead of schedule,'" said Capps, who came to the Padres last July in a trade with the Marlins. "But we're right where we want to be."
Capps, of course, is best known for his quirky hop-step delivery in which he launches himself toward home plate before releasing the ball. According to Statcast™'s extension metric, no pitcher let go of the baseball closer to home plate on average in 2015.
Some perspective on Carter Capps' extension, compared with other pitchers. On average, no one released the ball closer to the plate in '15. pic.twitter.com/OGM6gyxlUp

— AJ Cassavell (@AJCassavell) February 15, 2017
Capps said his delivery came about "subconsciously" during the 2014-15 offseason, which he spent recovering from a prior elbow ailment. He didn't realize how drastically his motion had changed until he watched videos of himself later that spring.
Padres manager Andy Green was one of the first to get a look at the new delivery. Capps' second appearance in 2015 came against Arizona, where Green served as third-base coach.
"Every single hitter we had came back to the dugout complaining about how they can't see the ball, they can't hit him, they don't like him," Green said. "Universally, you'll hear guys say he's the toughest at-bat in the big leagues."
Carter Capps -- and his hop-step delivery -- are back on the mound. He'll compete for the closer role, per Andy Green. pic.twitter.com/QwohDMRwHL

— AJ Cassavell (@AJCassavell) February 15, 2017
In 30 games that year, Capps posted a 1.16 ERA -- the lowest in the Majors for pitchers with as many innings. He struck out 58 over just 31 frames, one of the highest rates ever. Then, in August, he was shut down with elbow trouble.
The Padres don't seem worried that Capps' delivery might make him more susceptible to injury. And Capps didn't make any adjustments to it during his recovery.
"There's a comfort level there," Capps said. "I know it looks weird to everybody else, but it actually feels very comfortable to me."
Said Green: "He gets into a few unique positions in the delivery, but when he hits the key positions in the delivery, he's in the right spot."
A fully healthy Capps would be squarely in the closer mix, Green said, alongside Brandon Maurer (and, to a lesser extent, Ryan Buchter and Brad Hand).
If nothing else, Green is certain Capps has the right mentality for the job. He recalled seeing Capps retreat into the dugout during the latter innings of games, only to return red-faced and dripping with sweat.
"Like he was getting ready to close out a baseball game," Green said. "He wasn't going to pitch, he wasn't on the active roster. But to him, it was about having a routine, dominating the routine."
"I personally believe he's a top-three reliever in the game," Green added. "I think he's elite, and in due-time, everybody will see that."
AJ Cassavell covers the Padres for MLB.com. Follow him on Twitter @ajcassavell. This story was not subject to the approval of Major League Baseball or its clubs.