Mexico SS Urias impresses vs. parent Padres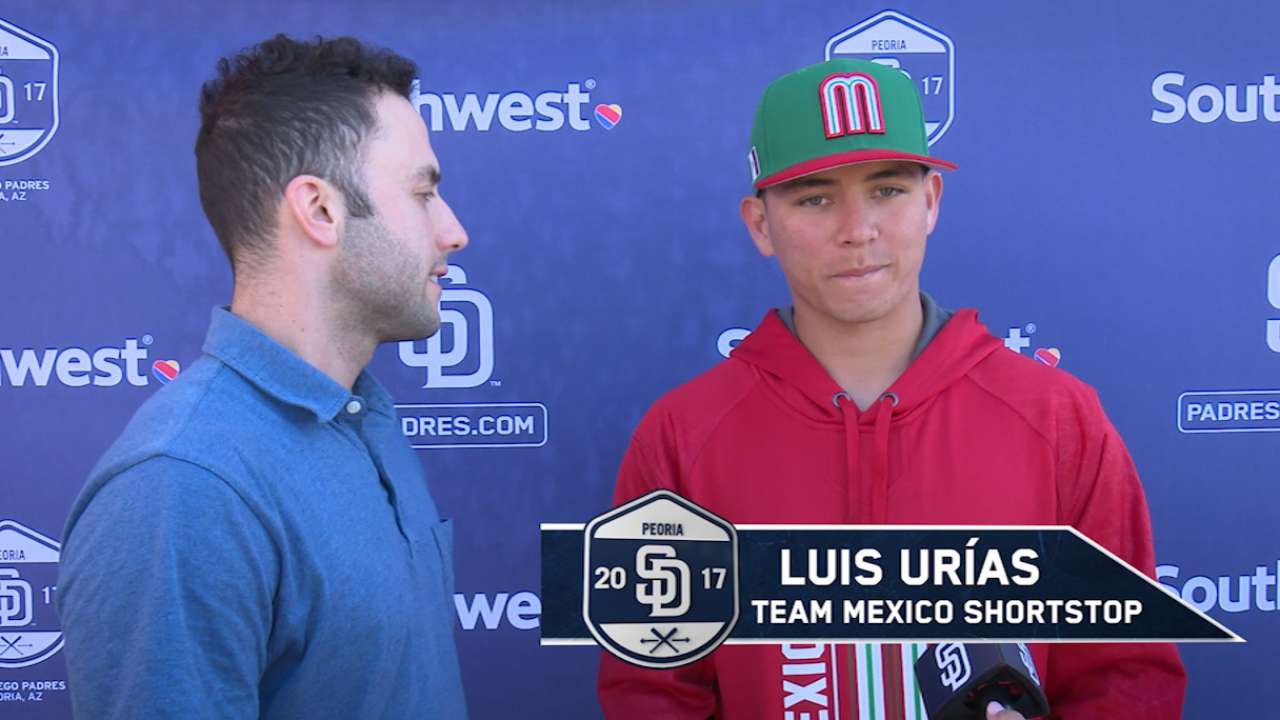 PEORIA, Ariz. -- As a kid, Luis Urias spent hours crafting his own baseball team on his PlayStation, filled exclusively with Mexican stars like Adrian Gonzalez and Yovani Gallardo.
It didn't take long for Urias to join them -- on an actual baseball diamond.
• Get World Baseball Classic tickets
At 19 years old, the Padres' No. 7 prospect could very well start at shortstop for Mexico in the World Baseball Classic this month. He faced his big league organization Tuesday and went 2-for-4 as Team Mexico dropped its exhibition game against the Padres, 7-3.
"It's a huge point of pride for me," Urias said. "Growing up, as a kid, I always wanted to play for Mexico and represent my country. So it's just going to be an immense source of pride."
In the Minors, Urias has seen the bulk of his playing time at second base. But the Padres are giving him a look at shortstop in camp this spring. In limited playing time, he's looked solid there, and he made a couple of nice plays Tuesday.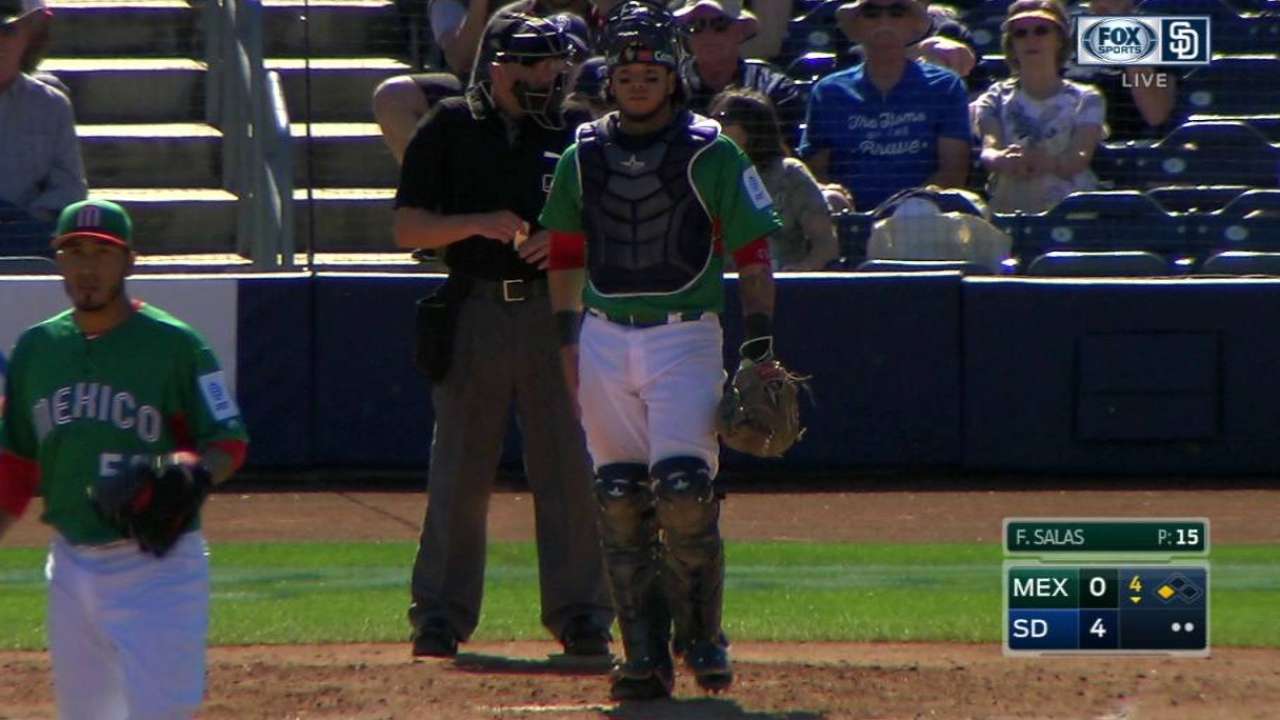 "At short, there's work ahead for him," said Padres manager Andy Green. "But he's got the capability to do that. ... There's no expectation he's ready to take the shortstop job at the Major League level. But the potential is there."
For Team Mexico, the process of converting Urias back into a shortstop has been expedited. There's a strong chance Urias starts at short when Mexico opens the World Baseball Classic against Italy in Thursday's Pool D Opener in Jalisco, live on MLB.TV and MLB Network at 9 p.m. ET.
The World Baseball Classic runs through March 22. In the U.S., games air live exclusively in English on MLB Network and on an authenticated basis via MLBNetwork.com/watch, while ESPN Deportes and WatchESPN provide the exclusive Spanish-language coverage. MLB.TV Premium subscribers in the U.S. have access to watch every tournament game live on any of the streaming service's 400-plus supported devices. The tournament is being distributed internationally across all forms of television, internet, mobile and radio in territories excluding the U.S., Puerto Rico and Japan. Get tickets for games at Marlins Park, Tokyo Dome, Gocheok Sky Dome in Seoul, Estadio Charros de Jalisco in Mexico, Petco Park, as well as the Championship Round at Dodger Stadium, while complete coverage -- including schedules, video, stats and gear -- is available at WorldBaseballClassic.com.
Mexico manager Edgar Gonzalez wouldn't commit to naming Urias the starter yet. But he believes the 19-year-old has the necessary temperament to handle the big stage.
"Very impressive composure," Gonzalez said. "He doesn't act like a young guy. He acts very mature. He's always under control, his feet are always in the right position. Nothing ever hurries up on him, which I love. Nothing is going to be too big for him. ... The way he plays is very calm, very under control. I think the Padres have a good player."
• Luis Juarez got Mexico on the board with a solo homer in the top of the sixth inning off Padres reliever Craig Stammen. The 27-year-old Juarez finished 2-for-4 and is expected to play left field during the Classic. Brandon Laird also went deep for Mexico.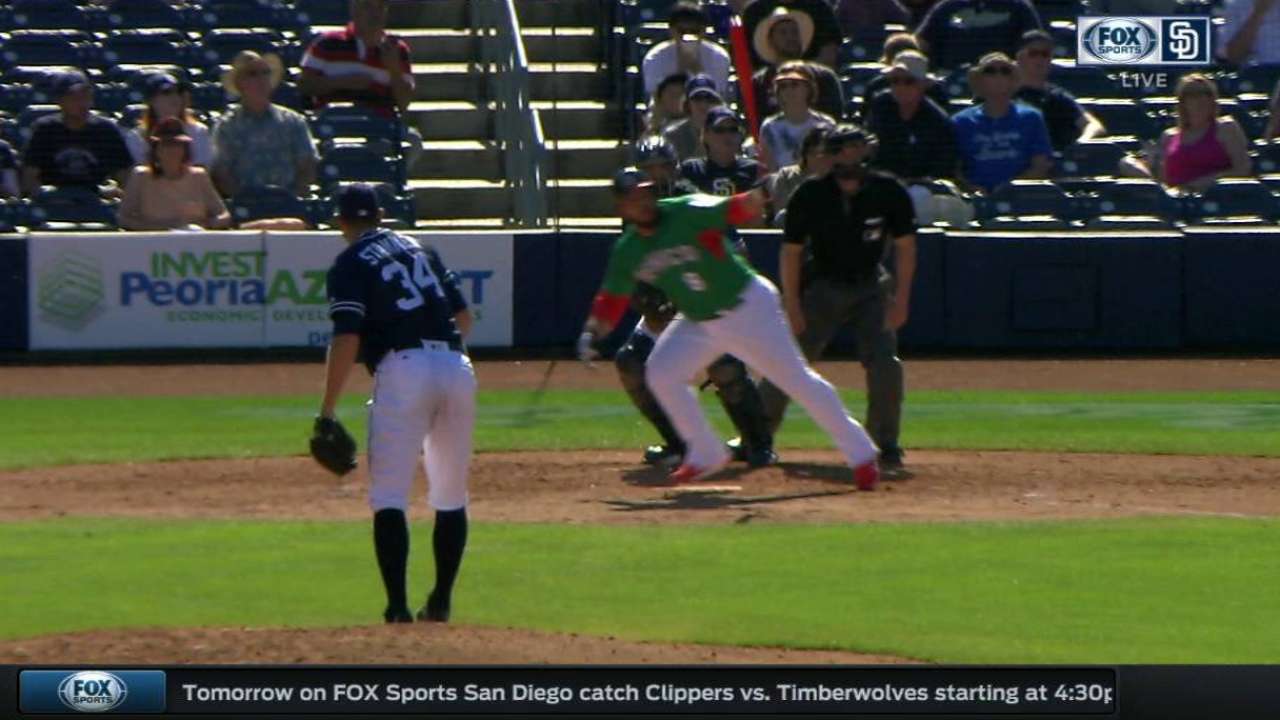 • Gonzalez didn't take part in Tuesday's exhibition, instead going 1-for-3 in the Dodgers' Cactus League game against San Francisco. He will join the team Wednesday but isn't scheduled to play in the exhibition against Arizona.
• With Mexico looking to preserve its arms in advance of the Classic, Padres Minor Leaguers Jake Smith and Francisco Mendoza pitched the final two innings of the exhibition for Mexico.
AJ Cassavell covers the Padres for MLB.com. Follow him on Twitter @ajcassavell. This story was not subject to the approval of Major League Baseball or its clubs.