MLB.com Columnist
Jonathan Mayo
Pipeline report: Prospects in Padres' camp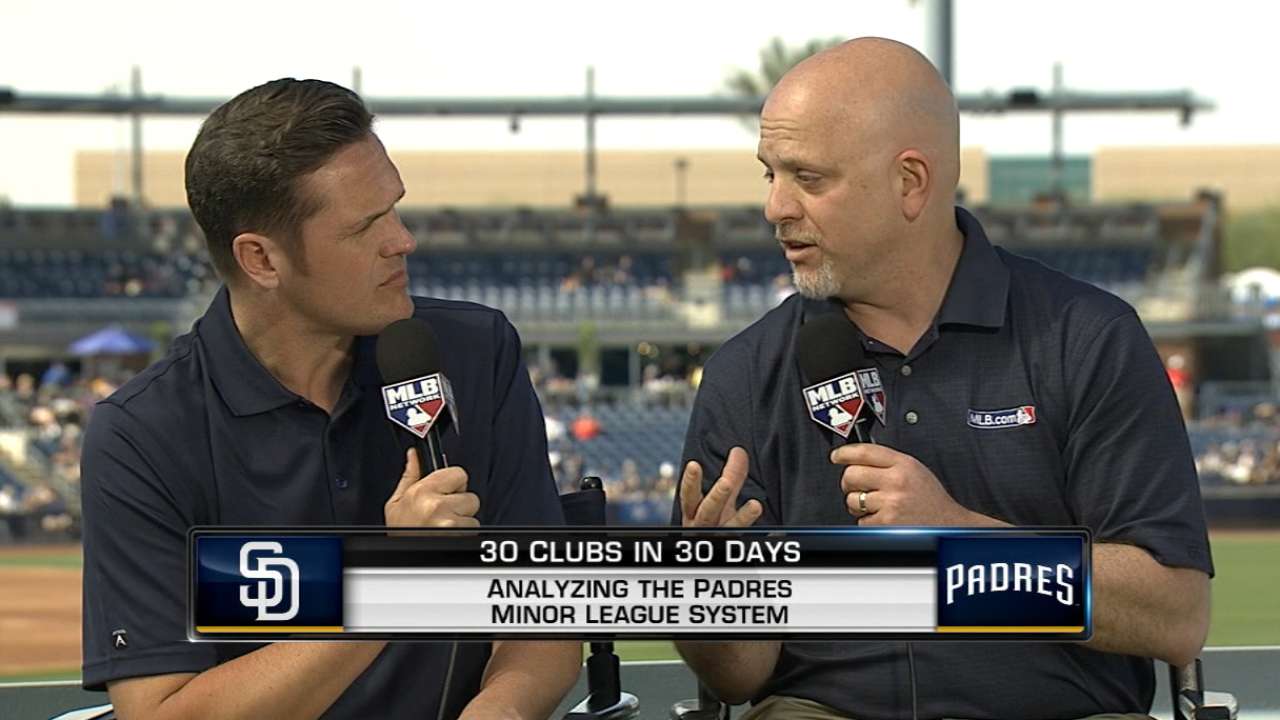 Every Spring Training, prospects get a chance to show what they can do as they prepare for the season ahead. Some are competing for jobs in big league camps, others are prepping for the season as they vie for spots at Minor League affiliates up and down a team's system. MLBPipeline.com will be visiting all 30 camps this spring. Today, we check in on the San Diego Padres.
PEORIA, Ariz. -- There is a whole different feel in Padres camp this spring. General manager A.J. Preller flipped the switch to a full-on youth movement in 2016, and there is a definite feeling of exuberance and optimism, even if it's more of a long-range hope at this point.
• Padres' Top 30 Prospects list
MLB Pipeline Spring Training Reports
It truly was an all-hands-on-deck effort, with every department kicking into high gear. The pro scouting department identified targets on the trade market, landing five prospects in the top 15 of San Diego's deep Top 30 Prospects list.
The amateur scouting department had six picks in the top 85 in the 2016 Draft and made the most of it, with five of them landing in the Top 30. Not to be outdone, the international scouting department did some serious July 2 shopping, signing seven of MLBPipeline's Top 30 international prospects. The end result of all of this? A lot of fun for farm director Sam Geaney and his staff with all of this talent in Peoria for their collective first Spring Training as Padres.
"On the player development side, we are reaping the benefits on what was a very strong year on the amateur draft side," Geaney said. "Cal Quantrill, Hudson Potts, Eric Lauer, and adding guys later like Mason Thompson. Then you look at the July 2 class and the international work that our guys did, signing guys like Luis Almanzar, Gabriel Arias and Jeisson Rosario. Then there are the Cuban guys, Adrian Morejon and Jorge Ona, who are kind of in a different category. Then you look at some of the pro scouting acquisitions, Anderson Espinoza, Fernando Tatis and Josh Naylor. All three departments contributed to get us the players we have now."
If Geaney sounds a bit like a kid ticking off his action figure collection, who can blame him? There is an enormous amount of talent now under his care, a group that made the Padres the fourth-best farm system in baseball. Now in their third year as the group running things in San Diego, Geaney feels they are set up to shepherd this young, mostly far away talent up the organizational ladder.
"When the talent really started to arrive in the last year, we were ready for them," Geaney said. "I like when we play other teams in instructional league or in Spring Training games, to see where we stack up. It is a super, super talented group of young kids that we have. To get them all on the field at the same time, it's really exciting."
Some talent ready now
Of course, not all of the prospects are years away like those mentioned above. There are some very good young players who knocked down the big league door and are ready for a longer shot in San Diego.
Hunter Renfroe had a ridiculous 11-game debut last September, largely because he "arrived with a swing that he trusted and an approach he thought would work," according to Geaney. His next challenge will be how he adapts when the league adjusts to him this season. Manuel Margot got 10 games during his debut, and while it wasn't quite as stunning, he showed the same speed and defensive ability that makes Geaney say that "hopefully he's the guy playing center field for us for the next several years." Add in catcher Austin Hedges, who broke through last year, and there's the hope that trio will fill in behind Wil Myers and form a very strong nucleus.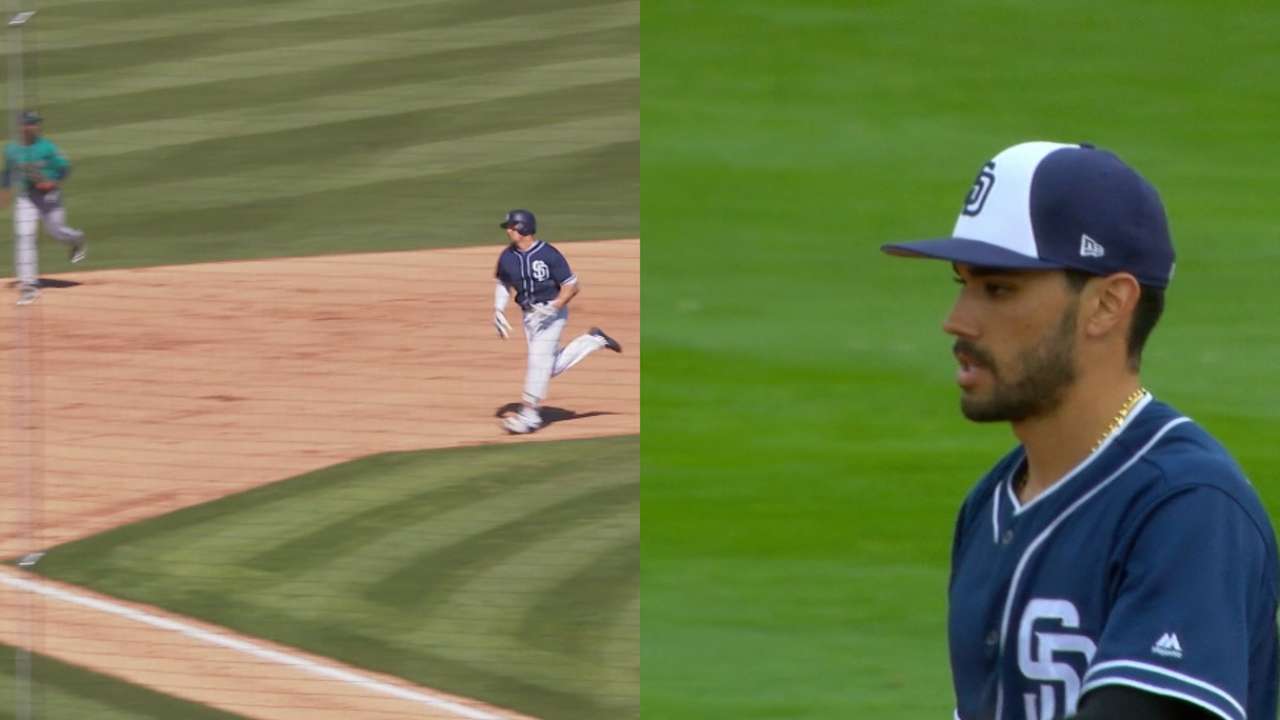 "I think looking at this group of guys, it's a unique Major League camp," Geaney said. "There are no real established veterans. We're looking to create a culture at the big league level, a lot of things those guys how they impacted the organization on the Minor League side on their way up, hopefully it carries over."
Breakout candidate
It won't be easy to break into the Padres' Top 30, but one young talent not on the list worth keeping an eye on is infield Eguy Rosario. Signed in August 2015, Rosario was hitting .341/.421/.470 with 21 steals at age 16 in the Dominican Summer League last year, so San Diego brought him to the United States and gave him seven games in the Rookie-level Arizona League. He promptly went 11-for-29 (.379) and didn't turn 17 until the end of August, leaving the Padres excited to see what the second/third baseman might do for an encore.
"He was pretty eye-opening," said Geaney, describing Rosario as a Howie Kendrick-type player. "There's some maturing that needs to happen, but he could see full-season ball as a 17-year-old at some point this year."
Jonathan Mayo is a reporter for MLBPipeline.com. Follow him on Twitter @JonathanMayo and Facebook, and listen to him on the weekly Pipeline Podcast. This story was not subject to the approval of Major League Baseball or its clubs.