Myers' torrid pace to start '17 is noteworthy
Padres first baseman extends hit streak to 11 games with homer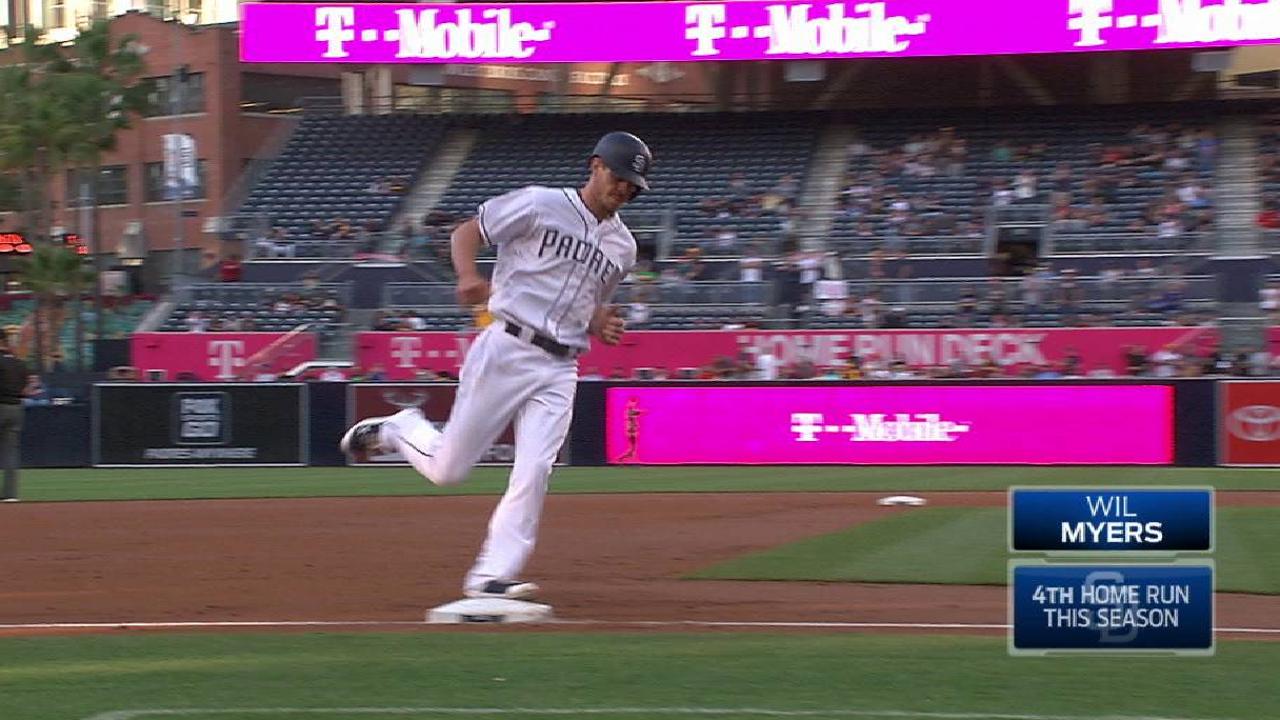 SAN DIEGO -- In the "notes" section on his cell phone, Wil Myers keeps tabs of his performance from every game. But, in his eyes, the results aren't the best barometer of a successful at-bat. Instead, Myers uses his own metric, "quality plate appearances," to determine his night.
It's all admittedly very subjective. If Myers went 0-for-4, but -- in his mind -- felt he put forth the best at-bat possible on two of those occasions, he'll mark down 2-for-4 in his phone.
And these days, Myers' notebook is filled with quality plate appearances. The Padres first baseman continued his torrid start to the 2017 season in Thursday's 4-1 victory over the D-backs, going 2-for-3 with a first-inning homer. That solo shot -- the longest by a Padres hitter this season, at a Statcast™-projected 440 feet -- extended Myers' hitting streak to 11 games, the longest active stretch in the National League.
Myers leads the Majors with 25 hits this year. He's also the first player with eight multi-hit games. He credits that success to a renewed focus on making sure that, mentally, he's not in between the fastball and the breaking ball with his swing.
"I worked a lot this offseason of just being ready to hit the fastball," Myers said. "Being ready to hit the fastball also keeps me ready to hit all the other offspeed pitches. My enemy this year is being in between pitches. That's the one battle I'm going to face all year."
So far, so good.
Myers began keeping track of his quality plate appearances as a means of not being too hung up on his results. Ultimately, if he's doing everything right, the results will come often enough.
"I know more about what I'm thinking at the plate, as opposed to people just watching," Myers said. "I can strike out, and still have a quality plate appearance. I can strike out, still feel like I'm on the fastball, and that's a quality plate appearance for me."
Whatever the numbers in Myers' phone, his numbers on paper are fantastic this year. He's batting .373 with a .687 slugging percentage and 11 extra-base hits.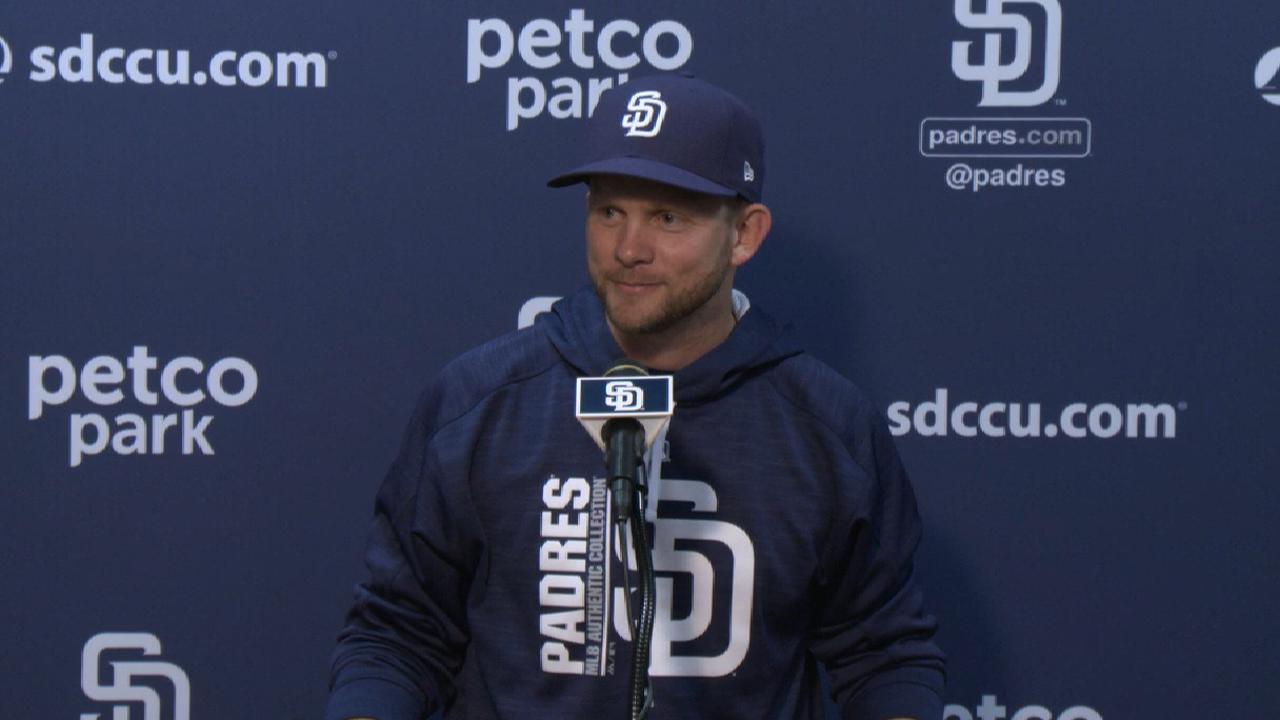 Manager Andy Green thinks there's more where that came from.
"There's another gear in Wil Myers that he hasn't even hit yet," Green said. "... There is all the potential in the world in him to be absolutely one of the elite players in the game. He's been great. I'm looking forward to watching him continue to climb to the next level"
On Thursday, Myers got the Padres on the board early with his mammoth first-inning blast off Patrick Corbin. He lined a single in the fourth, before striking out swinging in his final at-bat. During that strikeout, Myers felt as though, mentally, he was right on Corbin's fastball early in the at-bat.
So what is he going to put in his phone? Well, Myers typically doesn't give half-credit, but he made an exception on Thursday.
"Two-and-a-half-for-three," Myers said.
AJ Cassavell covers the Padres for MLB.com. Follow him on Twitter @ajcassavell. This story was not subject to the approval of Major League Baseball or its clubs.