After week off, Diaz thrives vs. former team
Reliever, viewed long-term by Padres as a starter, reflects on move from Brewers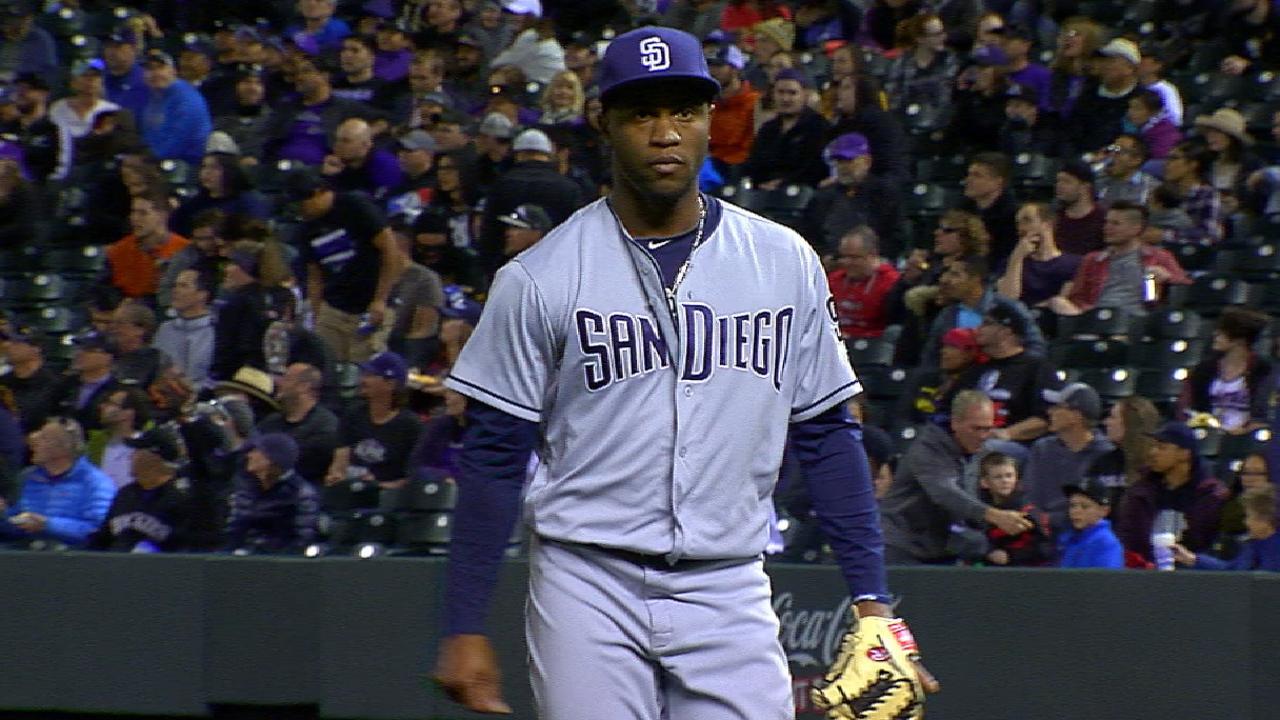 SAN DIEGO -- Miguel Diaz was still a Brewer on the morning of Dec. 8 when he headed to the local diamond in his native San Cristobal in the Dominican Republic. The 22-year-old right-hander went about his daily workout with his brother, choosing to leave his phone in the car.
It probably wasn't the best day for Diaz to be disconnected. Shortly thereafter he was taken first overall in the Rule 5 Draft by the Twins, who promptly dealt him to the Padres.
"I wasn't even thinking about the Rule 5 Draft," Diaz said through a team interpreter. "I wasn't even sure if I was eligible. When I got back to the car, I had a ton of missed calls, but didn't know what was going on.
"I felt like I went through every team that day. I didn't know what was happening. At first, I was surprised and a little shocked. But eventually I realized it's just baseball. It's the same game, but with a different team."
For the first time since that fateful December morning, Diaz is facing his former organization this week. He tossed three scoreless innings on Tuesday, his first appearance in a week.
"They were the team that kind of made me and taught me how to pitch," Diaz said of the Brewers. "I thought I'd face them eventually, but not necessarily this early. That was cool, but at the same time, I wasn't thinking about it as anything different."
Lately, it's been a bit of a grind for Diaz, whose ERA skyrocketed to 10.67 after two outings against the Dodgers in which he allowed nine runs combined.
Afterward, the Padres opted to give Diaz a week off the mound to hone his mechanics and find a better feel for his slider.
"We gave him time off between outings to give him some time to work with [pitching coach] Darren Balsley and [bullpen coach] Doug Bochtler," said manager Andy Green. "It proved really productive when you looked at him [Tuesday] on the mound and see how he threw."
Green noted that it's possible Diaz could make a start or two before the season is over. Ultimately, the Padres view him as a long-term starter.
In that regard, Diaz could be on the same path as Luis Perdomo, a Rule 5 Draft selection last year. Perdomo struggled mightily in the 'pen at the beginning of the 2016 season. He's since developed into arguably the Padres' best starting pitcher.
Perdomo and Diaz often work out together, and Diaz views Perdomo as something of a mentor. It's also no coincidence they've got adjacent lockers in the Padres' clubhouse.
"It's really helpful," Diaz said. "After my last rough outing, he told me not to worry about it, that these things happen and you can learn from them. He's always giving me advice, which is really great."
AJ Cassavell covers the Padres for MLB.com. Follow him on Twitter @ajcassavell. This story was not subject to the approval of Major League Baseball or its clubs.