Padres asking rookies to learn on the fly
Renfroe, Margot have made adjustments at Major League level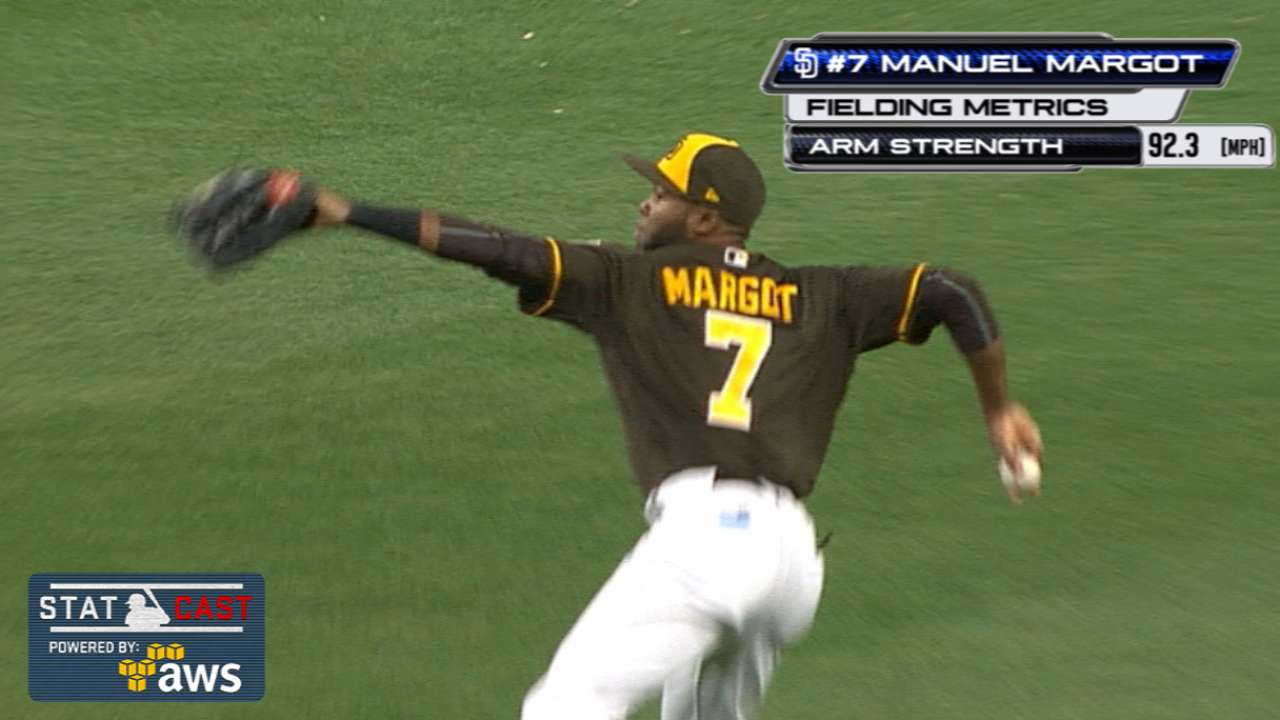 SAN DIEGO -- Manuel Margot and Hunter Renfroe may be rookies. But the Padres certainly aren't treating them with kid gloves.
The outfielders have played in 44 of the club's 45 games this season, offering little respite from the grind of their first Major League season. Entering Friday night's 10-1 loss to the D-backs, Margot and Renfroe ranked first and second, respectively, among all Major League rookies in at-bats.
They've been asked to learn the Major League game on the fly -- and they wouldn't have it any other way.
"There's nothing like facing a Major League pitcher," Renfroe said. "Nothing. Once you get out there, you start making adjustments in-game or in an at-bat. You're working out the kinks then. If you go in a slump, it's kind of better to go out there and swing out of it, honestly. You know you're going to get your opportunity every day, and you go out there and work as hard as you can."
In the second inning of Friday's game, Margot fielded a Taijuan Walker single in center field and fired a 93 mph strike to nail Chris Owings at the plate. It was the first outfield assist for the Padres rookie, who has been impressive on all fronts this season.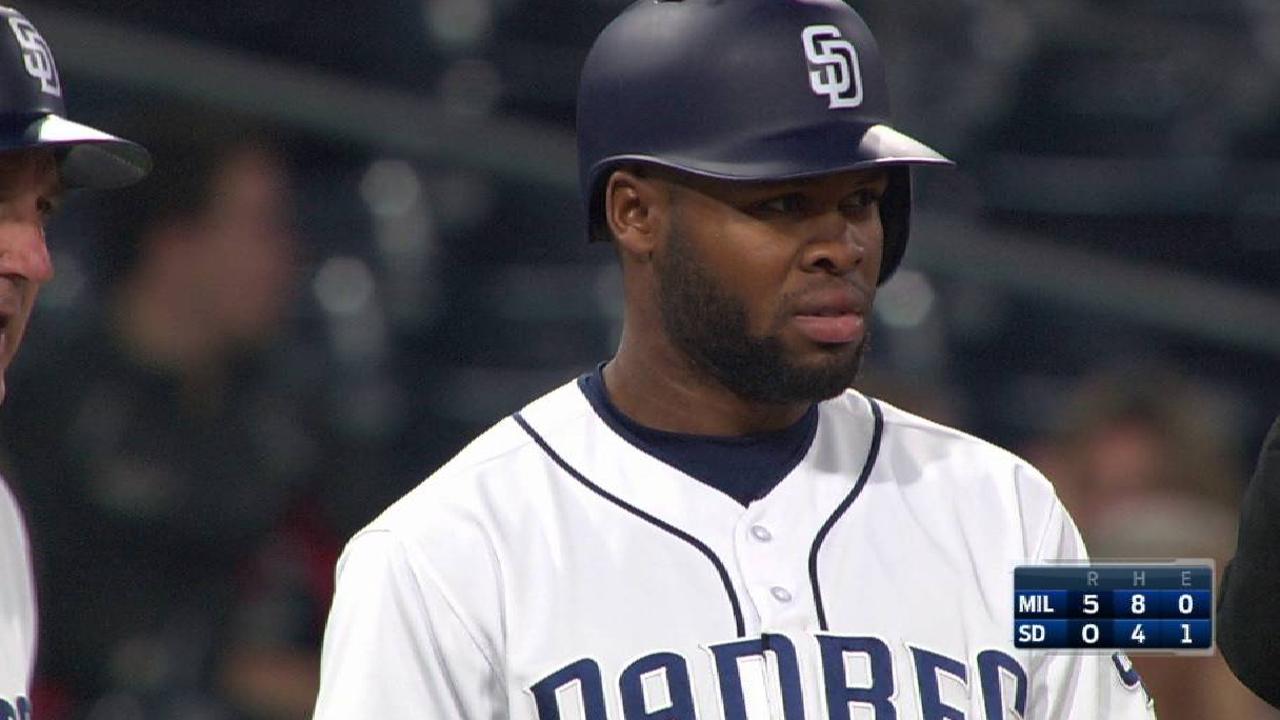 Going into Friday's game, Margot led all big league rookies with 46 hits, while Renfroe was fourth with 33. Renfroe's eight homers were third, behind only Aaron Judge and Josh Bell.
"In the future of this organization, those guys have a chance to be a huge part of it," said Padres manager Andy Green. "Learning on the job is a lot better than learning in Triple-A. There are things you're only going to find out at this level, by playing. You're forced to make adjustments that you're not forced to make at Triple-A."
Renfroe's season is Exhibit A. He struggled mightily in April, and the reason was obvious: He wasn't swinging at strikes. Pitchers rarely attacked Renfroe, knowing full well they could get by with junk pitches outside the zone.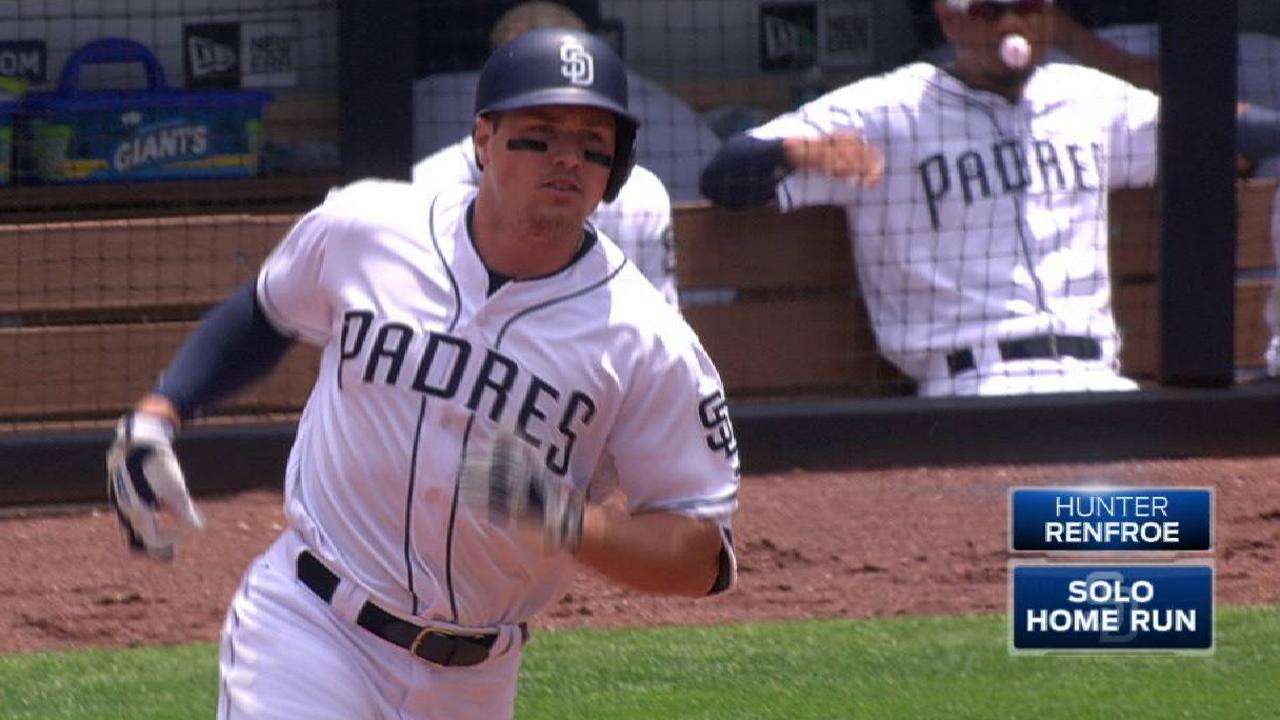 The Padres didn't sit Renfroe. They worked with him and trusted he would figure that out. It appears as though he has.
Renfroe walked twice in April, but he's drawn 10 free passes in May. In essence, he's seeing the same pitches, but he's not swinging at them. And as a result, he's hitting for more average and power as well. His OPS jumped from .623 in April to .800 in May.
"I obviously like playing every day," Renfroe said. "You get your at-bats in, you get in a routine of working every day. ... The more you play, the more you're going to start figuring out this game."
Green dipped into the past and pointed to the rebuilding Astros and Cubs teams from early in the decade. Both clubs routinely gave their youngsters playing time, and ultimately, they developed a handful of superstars.
"You look back at [Jose] Altuve, starting out his career at the beginning of [the Astros' rebuild], his numbers aren't off-the-charts impressive," Green said. "But I guarantee if you ask him, that experience he gained in that year helped turn him into the player that he is now."
AJ Cassavell covers the Padres for MLB.com. Follow him on Twitter @ajcassavell. This story was not subject to the approval of Major League Baseball or its clubs.