Capps (blood clot) back on DL, done for year
Reliever missed all of 2016 after Tommy John surgery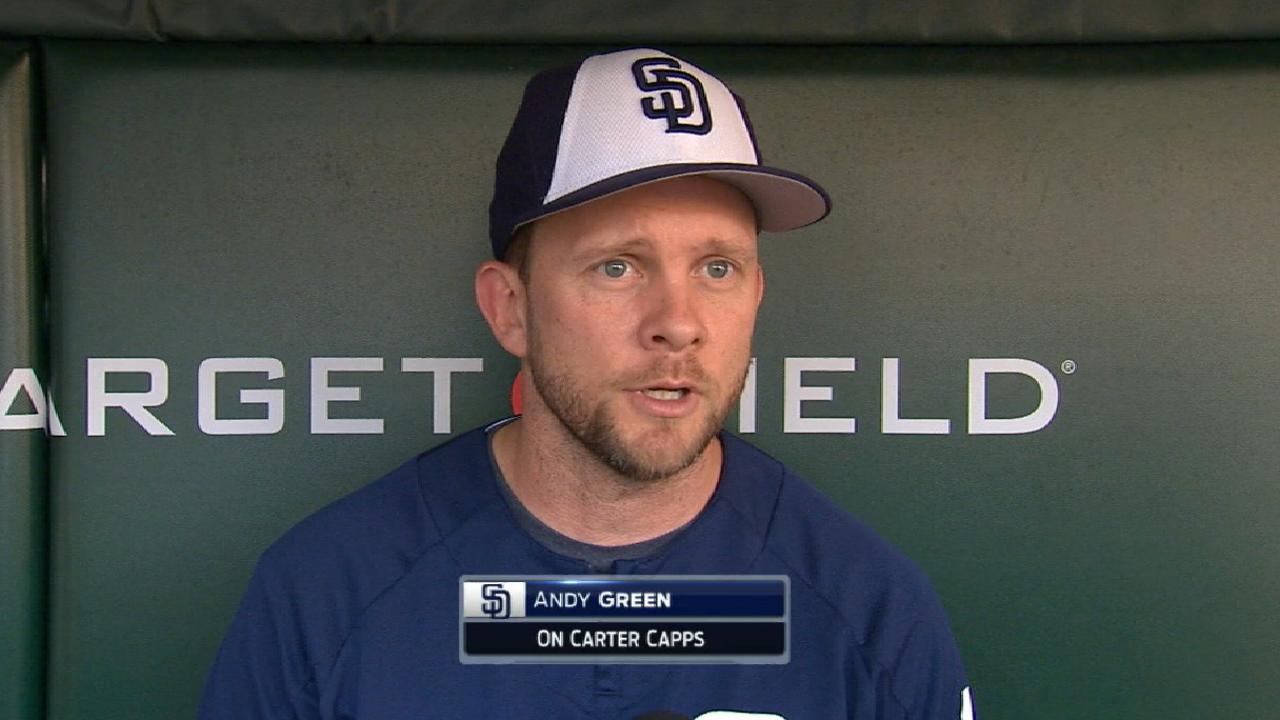 MINNEAPOLIS -- Padres right-hander Carter Capps is done for the season after being placed on the 60-day disabled list with a blood clot on Tuesday. San Diego also announced that it selected the contract of right-hander Cory Mazzoni from Triple-A El Paso.
Capps went to the hospital on Monday night in Minnesota, prior to Tuesday's opener against the Twins. He had been dealing with pain in his right side, originally expecting it to be a kidney stone. He will remain in the Twin Cities until he is cleared to fly back to San Diego. The Padres hope that Capps will return to the mound for the 2018 season.
"It's tough for us to hear, and tough for him to go through," manager Andy Green said. "But if you are going to bet on people, you bet on guys like him to work incredibly hard. Very resilient, you know he will be back."
Capps, who posted a 6.57 ERA over 12 1/3 innings in 11 games, appeared to be pitching better as of late. He had three straight scoreless outings, including 1 2/3 scoreless frames against the D-backs in his last appearance on Sept. 8.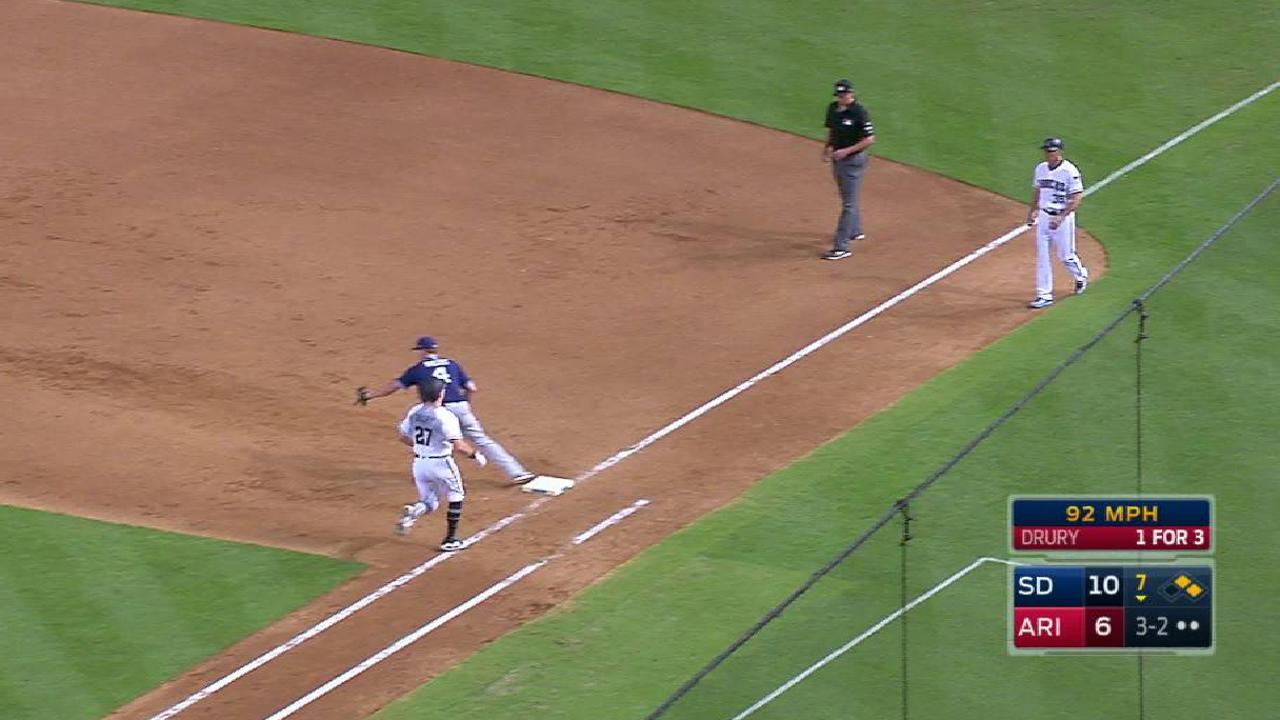 Green noted that Capps looked much better in his last few trips to the mound.
"It's really unfortunate for a guy who fought like crazy to get back from Tommy John [surgery]," Green said. "He was just getting traction, in my mind. He was just starting to throw the ball really well. I thought, every time he stepped on the mound, he got better and better."
During Tuesday's 16-0 loss to the Twins, Mazzoni made his first Major League appearance since 2015, allowing four runs on four hits in 1 1/3 innings. Mazzoni pitched in eight games in '15 for San Diego, posting a 20.77 ERA.
Mazzoni recorded one strikeout in his first showing in 2017, throwing 43 pitches, including 24 strikes.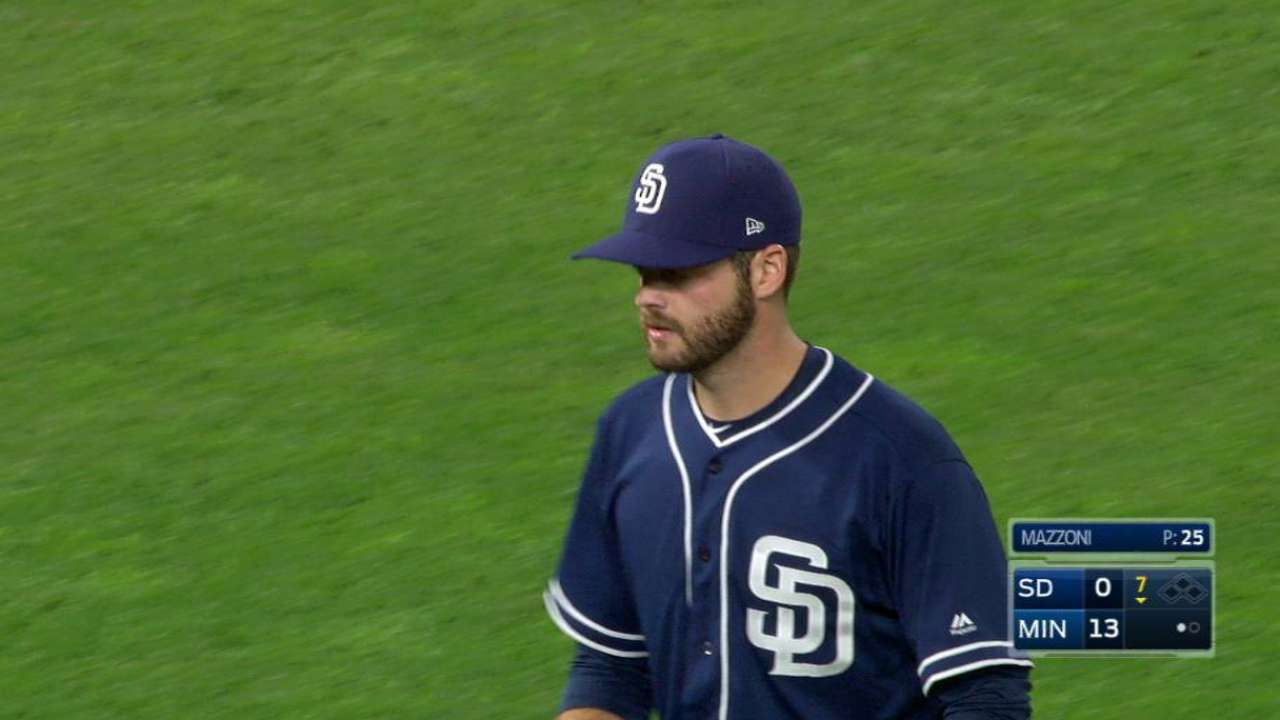 "He hops off a plane and has to pitch, it's not the easiest circumstances to pitch in," Green said. "I thought there was some good things, and a couple pitches he paid the price for."
Mazzoni recorded a 1.19 ERA across 30 1/3 combined innings during regular and postseason play for Triple-A El Paso. He will wear No. 60 for the Padres.
"Cory is throwing the ball very well for them this year, coming back from surgery," Green said. "His velo has been 95-98 [mph] pretty consistently, his slider has real bite. There have been a lot of guys in the organization really intrigued by him."
Worth noting
• Outfielder Jose Pirela (finger) was given the day off on Tuesday. Green said the team will reevaluate him on Wednesday to determine if he is available to come off the bench, or even start. Pirela is batting .288 with 10 homers and 40 RBIs in 312 at-bats this season.
Shane Jackson is a reporter for MLB.com based in Minneapolis and covered the Padres on Tuesday. This story was not subject to the approval of Major League Baseball or its clubs.