Pirela a solid choice for Most Improved Padre
Left fielder also Padres' nominee for MLB's Hank Aaron Award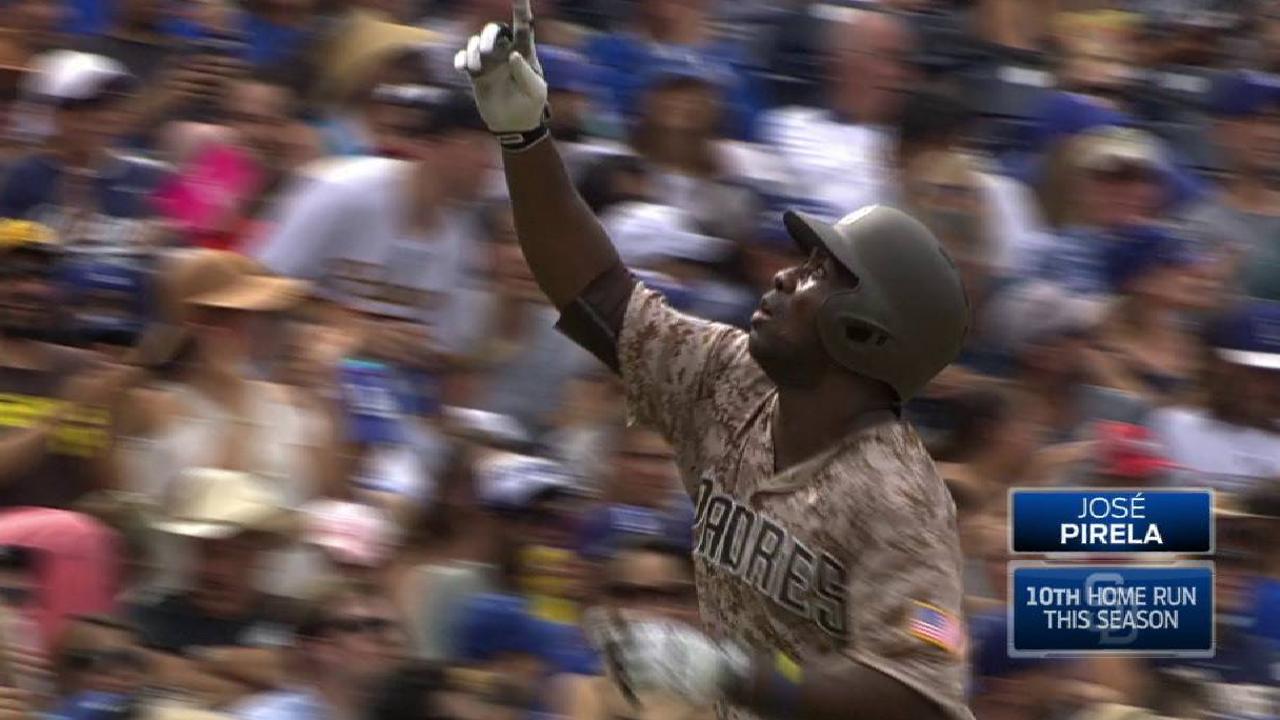 Bill Center, longtime sportswriter for U-T San Diego, is an employee of the Padres.
When you are dropped from a team's 40-man roster during the offseason, it is safe to say you aren't a major figure in that club's future plans.
That was the plight faced by Jose Pirela last winter.
The Padres dropped the infielder-outfielder from their 40-man roster after he hit only .154 in 15 games with the club in 2016 and spent much of the season on the disabled list.
But the Venezuelan decided to re-sign with the Padres last December as a Minor League free agent.
What followed was one of the most pleasant surprises of the Padres' 2017 season.
After starting the season with Triple-A El Paso, Pirela finished the campaign hitting .288 for the Padres with 10 homers and 40 RBIs in 82 games (79 starts). He had a .347 on-base percentage and a .490 slugging percentage for a .837 OPS.
Pirela was recently named the Padres' nominee for the Hank Aaron Award, which goes annually to the top hitter in each league selected by fans and members of each team's play-by-play broadcasters and color analysts.
Not only did Pirela lead the Padres in all three offensive "slash" categories this season among all players with more than 32 at-bats, he went from being a defensive liability to a solid left fielder while playing almost every day following his June 6 promotion to the Padres.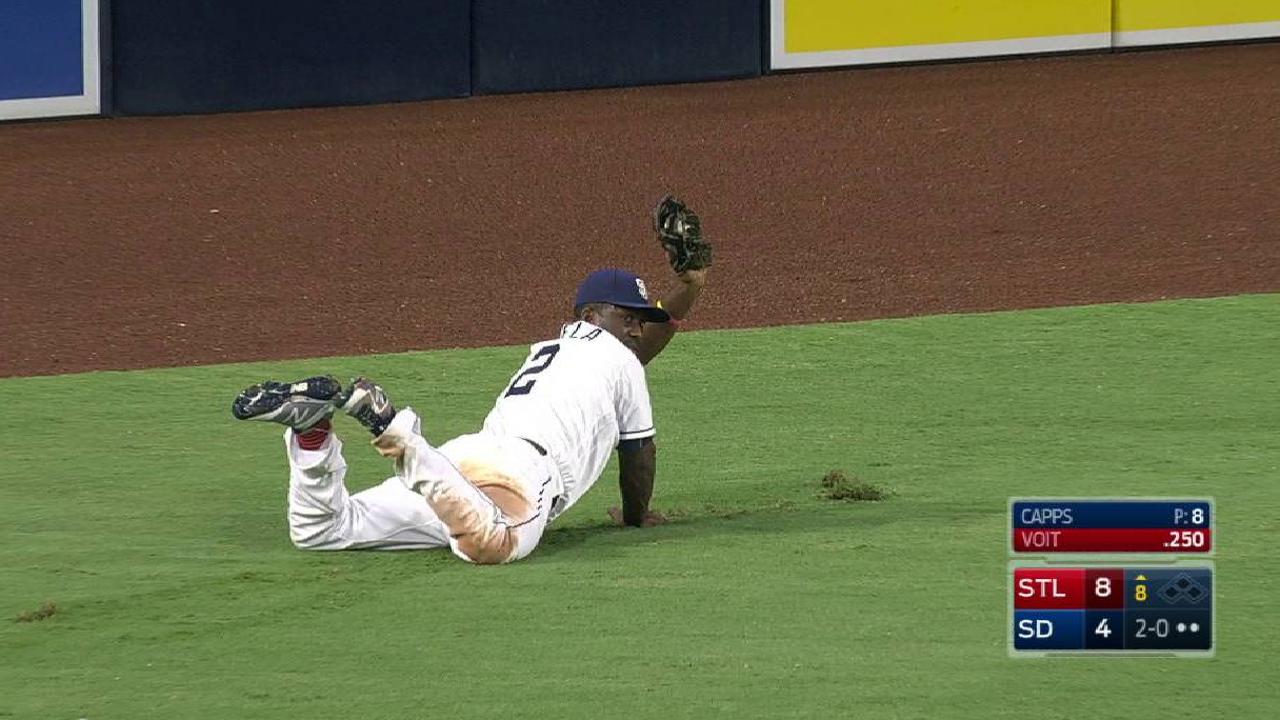 When you compare his results to where he was at the start of the season, the 27-year-old Pirela is my personal selection as the Padres' Most Improved Player for 2017.
And there was competition:
--Second baseman Carlos Asuaje's improvement almost mirrored that of Pirela's offensively as well as defensively, also going from being a Spring Training cut to an everyday starter at second. The 25-year-old Asuaje hit .270 with a .334 on-base percentage with new-found range and dependability in the field.
--And right-handed starter Dinelson Lamet, 25, went from being one of the first cuts during Spring Training to one of the top performing members of the Padres' rotation.
Pirela, however, gets the nod for my Most Improved Padre award.
Pirela missed the final three weeks of the season with a left thumb injury that he jammed sliding into third base on Sept. 10 at Arizona. Without Pirela in the lineup, the Padres finished 6-12. Yes, the argument can even be made that between his callup and premature departure, Pirela was the Most Valuable Padre.
Although he was a primarily a "bat" when he arrived and was removed late in most games for defensive reasons, Pirela worked himself into a quality left fielder who eventually remained in games through the finish.
"It's difficult to work as hard as he did during the season to improve his defensive play the way he did," Padres manager Andy Green said during the season. "There are only so many hours in a game day.
"Jose went from a player you replaced in left to someone you felt comfortable with out there in a one-run game. That is a huge shift and it goes to the work he did to make himself a better defender."
Until this season, Pirela was something of a player without a position. He was originally a second baseman and played at first and second for the Padres this season before he settled into left, filling the void created by the injuries to Alex Dickerson and Travis Jankowski and the struggles of Jabari Blash and Rule 5 Draft pick Allen Cordoba.
Pirela got off to a hot start, batting .484 (15-for-31) in his first eight starts with four doubles, two homers, seven RBIs and eight runs scored. Only three times during his 79 starts did he go hitless in two straight games. He had two four-hit games among his 23 multi-hit games.