Wieland, Luebke on rehab trail under same roof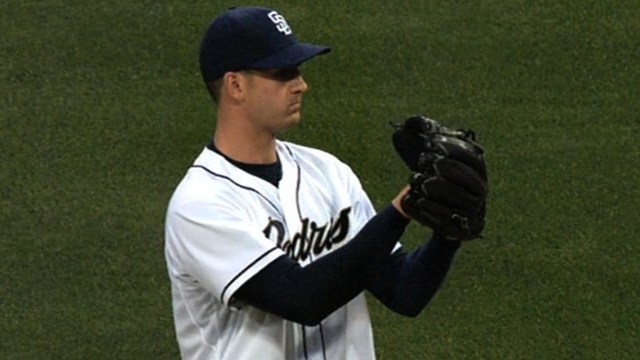 SAN DIEGO -- Pitcher Joe Wieland didn't have to search too far this winter for someone to commiserate with about his recovery from Tommy John surgery.
That is, unless you consider the other side of the living room far.
Wieland spent the offseason in San Diego, a roommate of fellow pitcher Cory Luebke, who purchased a home in La Jolla a year ago. Like Wieland, Luebke is also coming off major elbow surgery.
"I think it's been really important for me to talk to him," said Wieland, who had his surgery in July. "He's two months ahead of me so I'm able to see what he's doing and ask him questions -- What did your arm feel like at this point of recovery? -- those kind of things."
Luebke, who had his surgery in May, is to the point where he'll play catch from 45 feet off a mound on Tuesday when pitchers and catchers report to Peoria, Ariz., for the start of Spring Training. His recovery has gone well, aside from a small scare in December.
"I had some scar tissue let loose so I thought I had actually torn it again," Luebke said. "But two or three days later, it felt good again."
Wieland has been playing catch at around 70 feet and will continue to do so in Arizona. While Luebke could return midseason, Wieland will be about two months behind.
"So far, it's gone really well, maybe even better than expected," he said. "Hopefully the next six months will go the same way."
Wieland and Luebke are carefully about attaching any expectation -- realistic or otherwise -- to a date of return. There are small victories on the road to recovery, many of them measured in feet and in days. That's fine for now.
The idea of getting back up on the mound Tuesday for Luebke is one of those victories. It's something he hasn't done since April 27, his last start before surgery.
"I think I'll be able to find it [mound]," Luebke said, smiling.
Corey Brock is a reporter for MLB.com. Keep track of @FollowThePadres on Twitter. This story was not subject to the approval of Major League Baseball or its clubs.