Gyorko wastes little time in getting first hit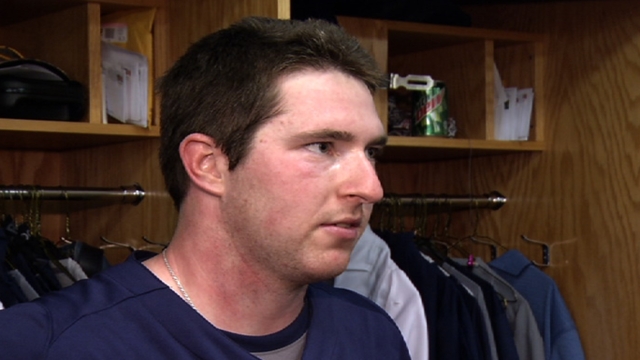 PEORIA, Ariz. -- Jedd Gyorko nearly came out of his shoes Friday when he went up the ladder, missing a high fastball from Mariners pitcher Hector Noesi.
"The ball looks kind of big out there your first time out," Gyorko said. "You're a little anxious to get that first hit."
Gyorko, who is here in camp trying to win the starting second-base job, didn't have to wait long, as he blasted a fastball over the left-field fence in the first inning for a grand slam.
"It looked like he was struggling to throw his breaking ball over the plate," Gyorko said. "I was trying to be aggressive. I think the whole team was trying to be aggressive with the fastball."
Gyorko's home run came as part of a six-run inning as the Padres defeated the Mariners, 9-3, at the Peoria Sports Complex.
"He looked good," manager Bud Black said of Gyorko, who was 1-for-3. "I thought he took some good swings and he looked good in the field."
A year ago, Gyorko hit a combined 30 home runs in two Minor League stops. He had one home run last spring in 43 at-bats for the Padres.