Luebke to resume throwing after camp breaks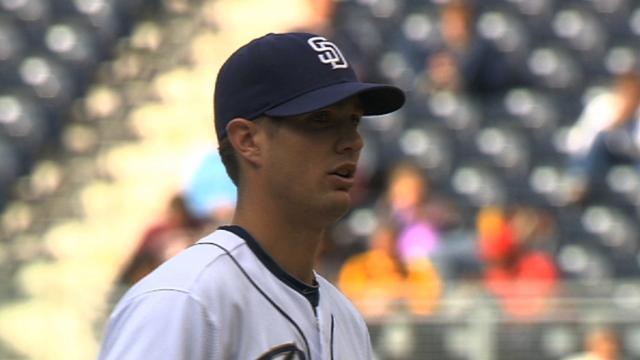 PEORIA, Ariz. -- When the Padres break camp next week and head to New York to open the season against the Mets, pitcher Cory Luebke will head back to San Diego.
Luebke, who had Tommy John surgery on his left elbow in May, hasn't played catch in about three weeks, though the left-hander isn't viewing it as much of a setback.
"I think we're going to start again next week when I get back to San Diego, I think they're going to revise my throwing program," Luebke said.
Luebke said he'll likely visit team physician Dr. Heinz Hoenecke first to make sure he is clear to resume his throwing program.
"We're giving it a little rest," Luebke said. "It feels good but I've been throwing since November, three times a week. So we're giving it a little time to cool off."
Luebke said that his recent inactivity shouldn't affect his bottom line in terms of when he will be able to pitch in a game again.
"When you look at the protocol, the first 10 1/2 months are pretty set, but after that ... in some cases, it takes guys 12 months and some guys it takes 14 or 16 months."
Until he's told otherwise, Luebke is working under the assumption that he'll be able to pitch sometime this season -- whether that be June or possibly later.
"I would be pretty upset if I didn't," Luebke said. "But that hasn't even crossed my mind yet."
Corey Brock is a reporter for MLB.com. Keep track of @FollowThePadres on Twitter. This story was not subject to the approval of Major League Baseball or its clubs.