Everth's speedy reputation may make thefts harder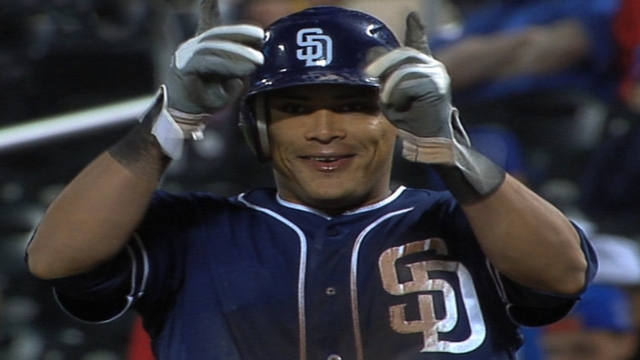 DENVER -- Everth Cabrera, the reigning National League stolen base champion, could have a tough time as he goes about trying to replicate the 44 steals he had a year ago.
"He has established himself around the league as a threat," said Padres first base coach Dave Roberts, who works with the team's baserunners.
"The league understands that now. The league understands when he likes to run, so you've got to try and counter that."
Cabrera went into Saturday's game against the Rockies with two stolen bases in as many attempts thus far in 2013. He was picked off once in San Diego's series against the Mets.
Roberts saw a lot of growth in Cabrera's ability to steal a base a year ago, and considers him to be a good basestealer. But Roberts, who stole 243 bases during his 10-year Major League career, would like to see him do more.
"As far as the mechanics, he's gotten so much better; his jumps are great, his acceleration is great, his aggressiveness and willingness to run is right where it should be," Roberts said.
"But I think for him to take it to the next level, he has to do a better job of not being too impatient, the times when he tries to force things as opposed to letting the game come to him. That's running into outs as opposed to letting the hitter take over and do what he's supposed to do."
But can Cabrera -- who was caught only four times in his 48 attempts a year ago -- match the number of steals he had a year ago?
"We still expect to see a lot of what he did last year. But people in this game, they document everything, your habits, like certain counts you like to run on," Roberts said. "He's got to let the game dictate his aggressiveness as opposed to forcing your will on the defense."
Corey Brock is a reporter for MLB.com. Keep track of @FollowThePadres on Twitter. This story was not subject to the approval of Major League Baseball or its clubs.