Headley expected to return next week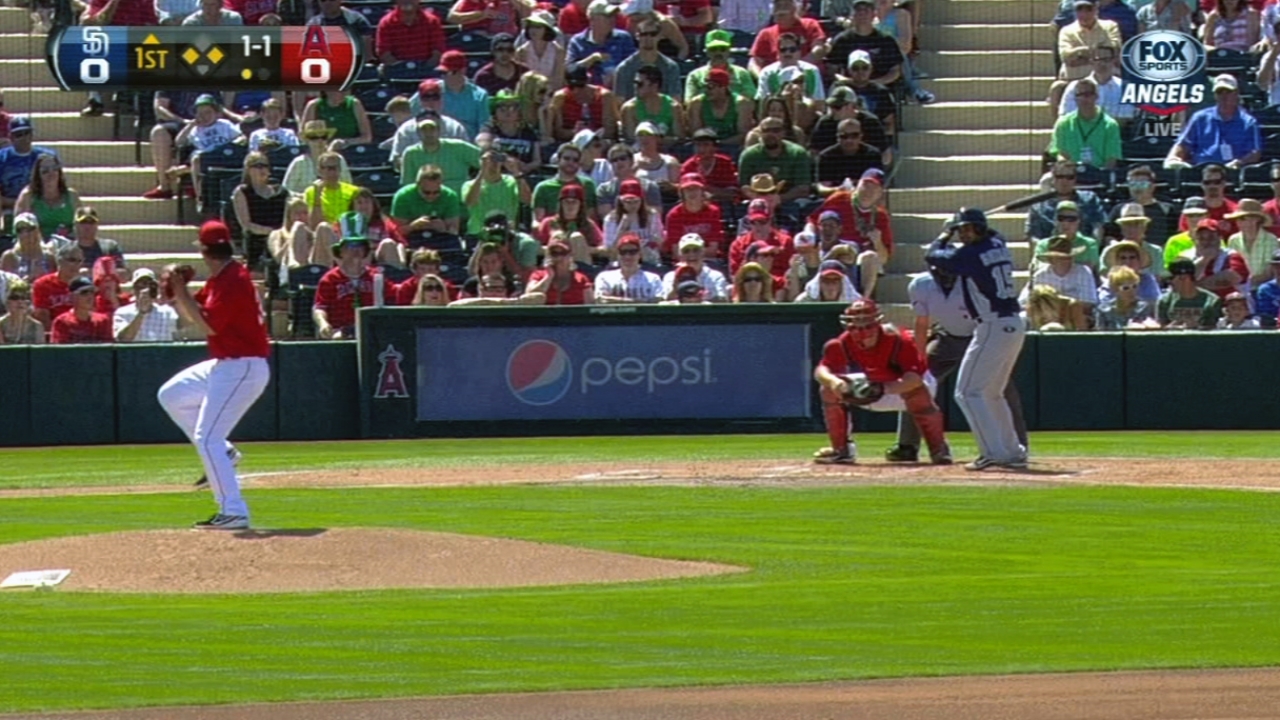 SAN DIEGO -- Chase Headley was back in town Saturday to be honored for last season's accomplishments.
The Padres third baseman took a break from his Minor League rehab assignment to receive his 2012 Silver Slugger and Gold Glove Awards during a pregame ceremony, but positive news about his playing future came a couple hours before.
Headley's review of Friday's assignment with Class A Lake Elsinore was glowing, more for the experience than a 1-for-3 night, during which he doubled a sharp liner to left as a designated hitter.
Headley has a checklist of unscripted moments that test the progress of his fractured left thumb, and breaking his bat after getting jammed on the knuckles was crossed off Friday night. So too was the jarring sensation that accompanies hitting off the end of the bat.
The final tests come on defense, which he will play on Sunday and likely Monday for Lake Elsinore. Headley said that doesn't guarantee he'll return the following day against the rival Los Angeles Dodgers.
Padres manager Bud Black wouldn't eliminate the possibility of a Tuesday return, but he insists that Headley is "truly day to day."
Headley and Black both said that significant progress is being made.
"Friday's appearance couldn't have gone better, considering the circumstances," Headley said. "The remaining issues come on defense, with hard-hit line drives and back-handing grounders where I have to squeeze the glove really hard. I've made some progress in that regard, but I have a little bit left to work through."
Headley wants to rejoin the Padres as soon as possible, but insists the team's struggles and Carlos Quentin's looming suspension for a bench-clearing brawl on Thursday will not cause him to rush his return.
"You can't let it," Headley said. "I would want to be back quickly if we were 15-0 or if we're in the situation we're in now. I want to help the team as soon as I can, but I have to make sure I'm physically ready to do that. It doesn't do anybody any good to come back if I'm not able and confident."
A date hasn't been set, but Headley is expected back in the lineup next week, barring a setback.
"As a group, we're making sure that he's progressing and feeling where he needs to be as he's approaching his return," Black said. "As far as an expected date of return, we can't give you one. We do know that he felt good yesterday and he's gonna have a good workout. We'll discuss Monday what to do moving forward."
Scott Bair is a contributor to MLB.com. This story was not subject to the approval of Major League Baseball or its clubs.