Wieland upbeat after 100-pitch bullpen session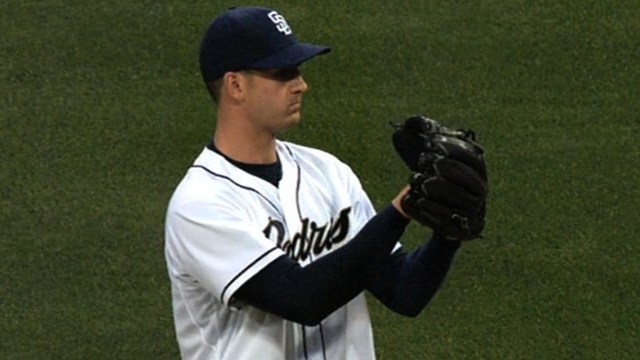 SAN DIEGO -- One day before the nine-month mark following Tommy John surgery last July, Joe Wieland threw 100 pitches off a mound on Friday in Arizona.
Wieland, a right-hander who made his Major League debut last season, was more than pleased with his bullpen session.
"My spirits, my enthusiasm today … it's the best day I've had," Wieland said of his post-surgery recovery that has included countless hours of rehabilitation. "Strength, health, I feel that I'm close to 100 percent of how I should be feeling."
While working out in Surprise, where the Padres have a temporary facility while the one in Peoria is being removed, Wieland threw the equivalent of three innings, resting in between innings, at about 75-80 percent, he said.
"That was a lot of throws … that's not something you do, even when you're healthy," Wieland said. "I have to control myself a little because within the last two weeks, I've really turned a corner and gotten to the point where I'm not feeling any pain at all."
Wieland said it is still too early to know when he'll appear in a Minor League game on a rehabilitation assignment, though he'll know more at the 10-month mark.
"The catcher is still standing up [during the bullpen session], but I felt good," he said. "I would stop between pitches and think, 'Why am I not in a game right now.' It's really tough. They don't want me going at full speed. I have to hold back."
Wieland had his reconstructive elbow surgery a month after teammate Cory Luebke did, though Luebke had a setback in his recovery and didn't throw for six weeks earlier this spring. He's currently throwing from 150 feet.
With Tommy John surgery, each case and each recovery varies. Both are on track to pitch this season, though it appears Wieland will beat Luebke back to San Diego.
"I would say I'm blessed, I'm fortunate. I was one of those guys who never thought I was going to get hurt, with all the work I did to keep my arm in shape," Wieland said. "I think the hard work I put in, not doing too much [through recovery and rehabilitation], too early, really helped.
"It was sticking to the schedule, the routine. Getting some rest in there. There were some days where I backed off. If you keep pushing it, it might delay you a couple of months."
Corey Brock is a reporter for MLB.com. Keep track of @FollowThePadres on Twitter. This story was not subject to the approval of Major League Baseball or its clubs.