Third-base coach Hoffman making great reads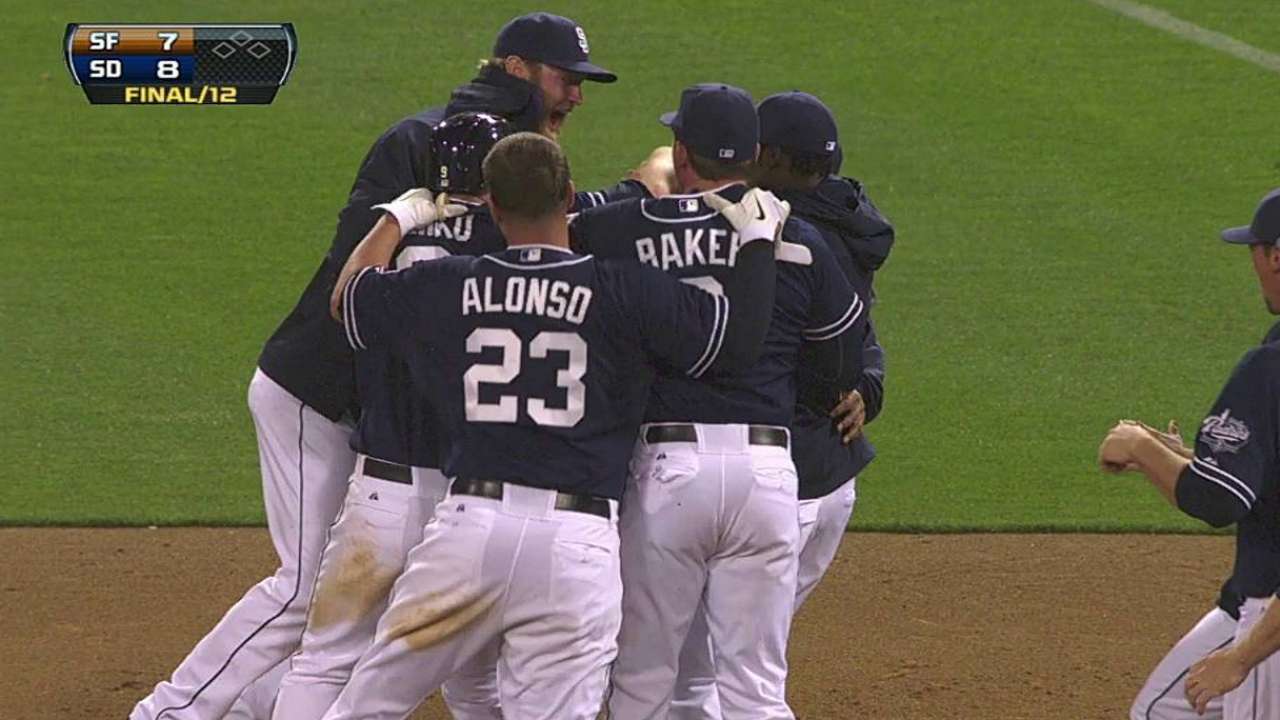 SAN DIEGO -- Third-base coach Glenn Hoffman can go weeks -- or even longer -- without facing a difficult decision on whether to hold a runner.
He's faced two in the last two games and both ended up being wise decisions.
On Saturday, Hoffman held Yonder Alonso at third base after a sharp single to right field by Jedd Gyorko in the 12th inning. Alonso was on second base but Hoffman held him for several reasons. One was that Alonso doesn't have the swiftest speed; the other was the arm of Giants right fielder Hunter Pence.
"When Pence goes to his left and with the way he throws, he's pretty accurate," Hoffman said. "If you have [Will Venable] running, then he's closer to me."
Alonso eventually scored the winning run in the Padres' 8-7 victory in 12 innings after Giants second baseman Marco Scutaro was charged with an error on Nick Hundley's ground ball with one out.
On Friday, Hoffman held pitcher Andrew Cashner at third base on a Chase Headley single with two outs. Carlos Quentin then delivered an RBI single and Alonso did the same in a game that the Padres won, 2-1.
"It looks good when you get them in," Hoffman said. "It worked out."
That's in large part, manager Bud Black said, because of Hoffman's experience and his ability, more often than not, to make the right call quickly.
"It's a job that really goes under the radar, and Glenn is one of the best in baseball," Black said. "These guys study their craft, they know how to track outfielders, their arm strength. Hoffy makes, very, very few mistakes.
"It's a role on the team that doesn't get a lot of credit. If things go bad, a third-base coach can take some ridicule."
Corey Brock is a reporter for MLB.com. Keep track of @FollowThePadres on Twitter. This story was not subject to the approval of Major League Baseball or its clubs.