Happ's injury brings back memories for Padres coach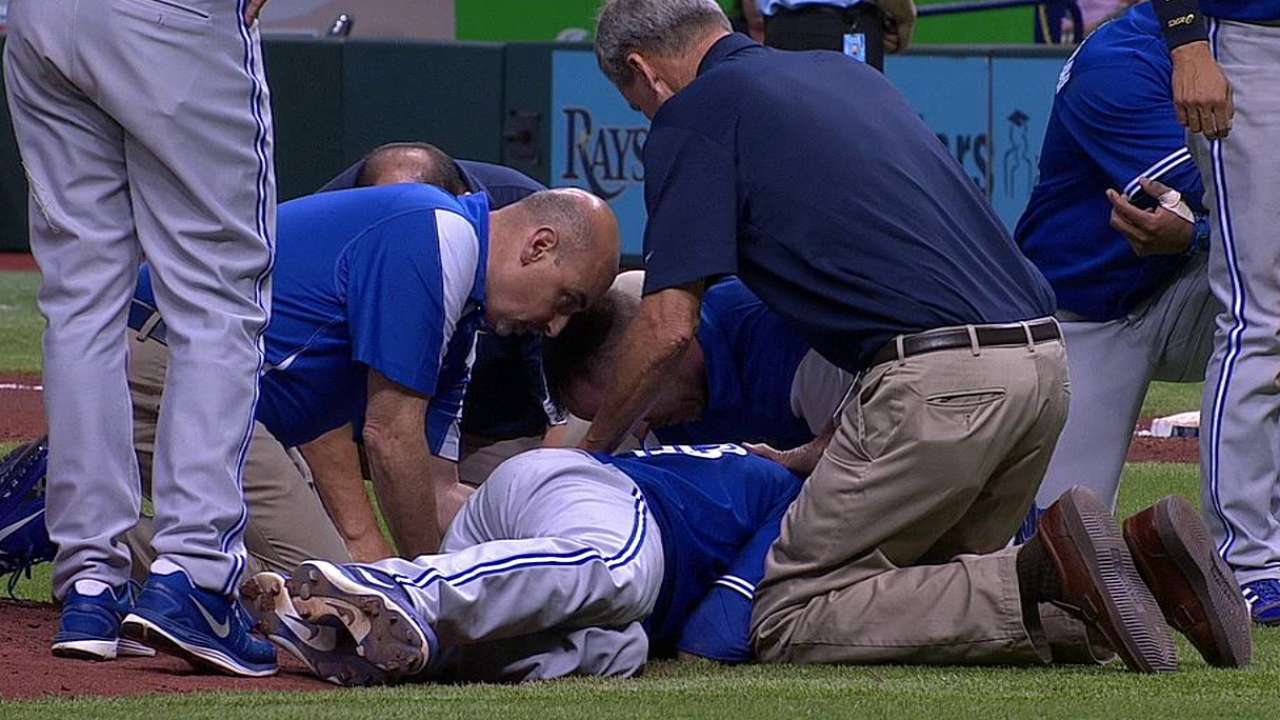 SAN DIEGO -- The most successful season in Willie Blair's 12-year Major League pitching career was also the most trying.
On his way to winning 16 games for the Tigers in 1997, Blair -- now in his first season as bullpen coach for the Padres -- suffered a concussion and a broken jaw after he was hit by a line drive after making a pitch in a game against the Indians.
"It brings back memories," Blair said Wednesday after watching replays of Blue Jays pitcher J.A. Happ being hit by a line drive on Tuesday.
"It looks like he was almost hit in the same place I was."
Blair was making his seventh start of the 1997 season and was in the process of throwing a gem, as he took a four-hit shutout into the sixth inning, when Julio Franco came to the plate.
"We had a 2-0 lead in the sixth inning, had two outs and I got behind him," Blair said. "I'm not going to walk him. The count goes 3-1 and then he fouls off six, seven balls. So I thought, 'Here's another heater,' … I throw a fastball away, maybe up just a tad. As soon as he hit it, I knew it was going to hit me."
The ball struck Blair just below his right ear, near the top of his jaw.
"The ball hit me and went back to the catcher [Pat Borders]. That's how hard it hit me. I remember him getting there and the panic in his voice. I couldn't say anything for a couple of seconds," Blair said.
Blair was eventually taken to a hospital where he was diagnosed with a concussion and non-displaced fracture of his jaw, meaning he didn't have to have his mouth wired shut. He was fine with that, as he knew that would keep him off the mound longer.
Blair was initially told he would miss between six and eight weeks, but he recovered quickly and made two Minor League rehabilitation starts before returning to the big leagues to pitch in a game on June 3.
Blair was asked after the fact if the incident made him skittish at all about pitching again. He shook his head.
"No, this was just a freak play. People ask me all the time if I was apprehensive. I wasn't," he said. "I had been hit by line drives before then and actually hit three more times after that. I realized that 99 percent of the time you're able to deflect it, where it's not that big of a deal. This one got me."
Blair went 1-2 with two no-decisions in five starts in June before winning all six of his starts in July, as he went on to finish 16-8 with a 4.17 ERA.
Corey Brock is a reporter for MLB.com. Keep track of @FollowThePadres on Twitter. This story was not subject to the approval of Major League Baseball or its clubs.