Prospect Smith adapting to Majors with coaches' help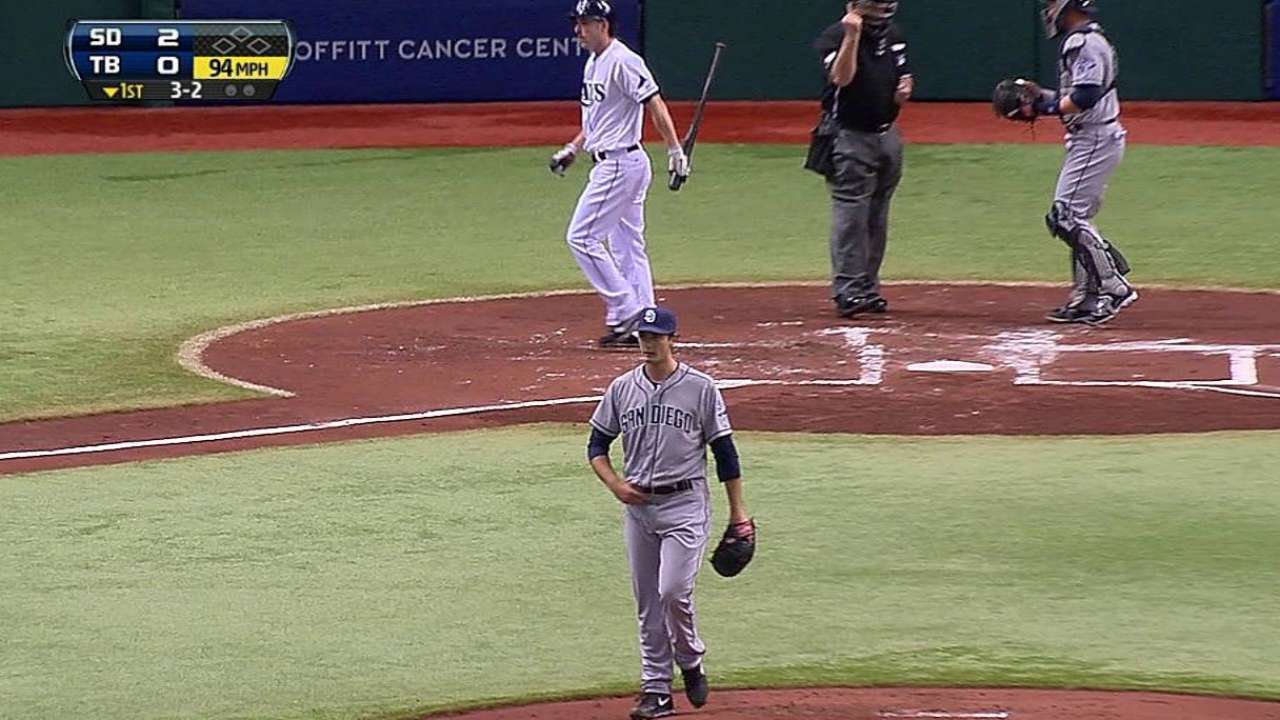 BALTIMORE -- Having dispensed of one substantial first in his Major League career on Saturday when he made his Major League debut against the Rays, Padres starting pitcher Burch Smith had yet another noteworthy first on Tuesday afternoon -- his first side session.
Four hours before the Padres faced the Orioles at Camden Yards, Smith, pitching coach Darren Balsley and bullpen coach Willie Blair spent time in the bullpen for a between-starts session that was as much philosophical as it was physical.
"I'm anxious to get back out there and throw again," Smith said.
Smith worked a 1-2-3 first inning against the Rays on Saturday and then allowed six runs in the second without getting an out. He'll start on Friday at Petco Park against the Nationals.
When he does start again, Smith aims to use his curveball and changeup more. He threw only four non-fastballs out of 42 pitches total against the Rays.
"I think the side session went well, and I tried to absorb as much information as I could. We discussed the differences between a fastball-dominant pitcher in the Minor Leagues and one in the big leagues," Smith said.
"I'm learning when it's a good time to throw a curveball or changeup. I'm going to try and incorporate that in my next start."
When Smith was promoted last week -- he arrived on Friday in St. Petersburg -- manager Bud Black and his staff, as typically is the case, let him pore over scouting reports but didn't meddle much, knowing that Smith, much like other rookies, had a lot on his mind already.
"I don't think there was a lot of information exchanged before his first start," said Black. "He was coming off a great run in Double-A. And you don't want to fill a young guy with too much information -- too much to analyze."
On Tuesday, though, Smith worked closely with Balsley and Blair. They watched the spin of his curveball and the action on his changeup. They talked about pitch sequencing and mechanics.
"It was big for him -- and Darren and Willie to see him in a normal side session. Today, they were able to see the pitches that he's going to have to use in Major League games," Black said. "Today was a good situation, fundamentally."
Corey Brock is a reporter for MLB.com. Keep track of @FollowThePadres on Twitter. This story was not subject to the approval of Major League Baseball or its clubs.