Quentin out of starting lineup with sore left shoulder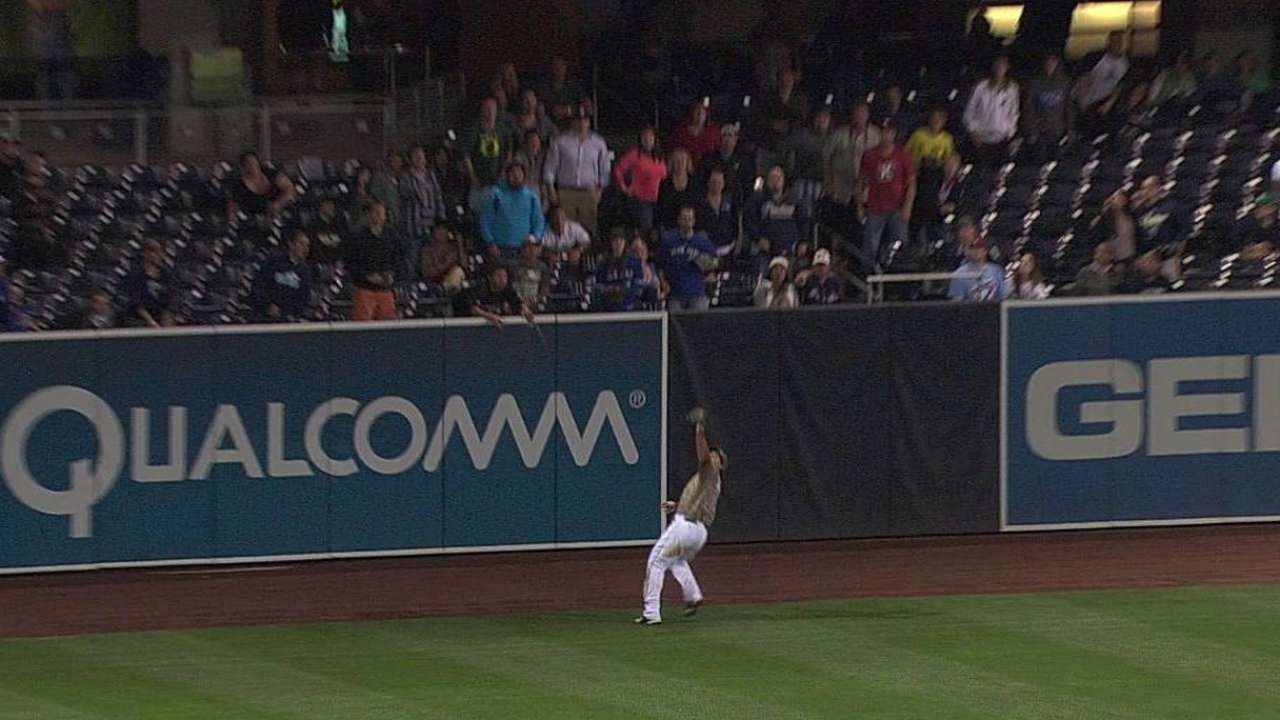 LOS ANGELES -- Carlos Quentin was out of the Padres starting lineup with a sore left shoulder Monday night -- the first time he's been active for a game against Los Angeles since he charged the mound after being hit by a Zack Greinke fastball on April 11.
The Padres left fielder collided with the Petco Park wall, while making a catch during Sunday's game against Toronto. Having played 10 games in a row -- nine as a starter, Quentin was left out of the lineup by manager Bud Black, who added that Quentin should be available if needed as a pinch-hitter. Both Black and Quentin are hopeful he'll be able to start Tuesday.
Speaking with reporters before Monday's game, Quentin sounded disheartened that he was unfit for game action.
"I'd like to get back out on the field as soon as I can and get all this behind me, get everything returned to baseball," Quentin said. "That's kind of the mindset. I'd like to be out there right now, but with how my body feels, today is not the day."
Greinke, of course, fractured his collarbone as a result of his collision with Quentin. Both benches cleared and after the game the Dodgers did not mince words as to their displeasure with Quentin, who received an eight-game suspension.
Quentin said he talked with Greinke on the phone three or four days later and called it a "productive conversation and the rest of that conversation, we're just going to kind of keep private."
After a rough start to the season, Quentin has returned to his old form recently, raising his average to .230 after batting .375 over the past 10 games. Greinke, meanwhile, returned about four weeks earlier than expected from his injury, but he won't pitch this week against the Padres.
"I think baseball, in general, has a way of taking care of these things," Black said. "It'll play out how it's supposed to play out as far as those of us in the game. Am I concerned? No."
Still, Quentin understands why the incident has received so much attention over the past couple months.
"Zack's a great pitcher -- a huge free-agent acquisition by the Dodgers," Quentin said. "He was unfortunately injured, so it obviously makes sense that it would draw attention."
As for what to expect from the Dodger Stadium faithful if and when Quentin earns his first at-bat there following the brawl, Quentin isn't sure what lays in store.
"It's a tough question to answer," he said. "They're Dodger fans, so that's all I can say."
AJ Cassavell is a reporter for MLB.com. Follow him on Twitter @ajcassavell. This story was not subject to the approval of Major League Baseball or its clubs.