Smith's makeup prompts Padres' pick in fourth round
Smith's makeup prompts Padres' pick in fourth round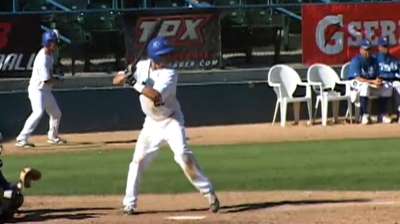 At his most recent pre-Draft workout, Mason Smith impressed Padres scouts when he hit 11 home runs in 25 swings at Petco Park. What impressed the Padres more was that they were the fifth different team he worked out with that week, and he still impressed, even though he was likely tired.
It helped the Padres decide to select the Rocky Mountain (Idaho) High School center fielder Friday in the fourth round (118th pick) of the First-Year Player Draft.
"It showed more about his fortitude and his makeup than it did anything about his ability," said Padres assistant general manager Chad MacDonald. "We knew he had power … that was just kind of the final push over the edge to really know we wanted to get this kid."
The 6-foot-2, 195 pounder posted .421 batting average as a senior with six home runs and 35 RBIs, slugging .926.
Scouts believe Smith's talent could still be a little raw because of the level of competition in Idaho high school baseball, but he draws praise for his makeup and aggressiveness, and has a chance to hit for average and power.
"We feel like we got a middle-of-the-diamond guy with some power," said director of scouting Billy Gasparino.
Smith is Mormon and committed to Utah, but has told teams he does not plan to go on a church mission, according to Baseball America, and is expected to turn pro.
Jamal Collier is an associate reporter for MLB.com. This story was not subject to the approval of Major League Baseball or its clubs.