Forsythe reflects on first start in outfield
Forsythe reflects on first start in outfield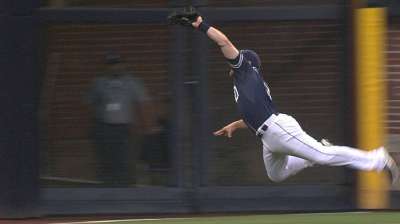 SAN DIEGO -- Logan Forsythe's second professional catch as an outfielder was a difficult one.
Arizona shortstop Didi Gregorius hit a slicing drive that tailed toward the left-field line Saturday night, and Forsythe set out in a dead sprint. He didn't have time to be nervous about making a play, but one thought stuck with him as he tracked the ball down.
"I was hoping I wouldn't have to dive," Forsythe said. "But, the longer I ran, the more I braced myself for the opportunity."
Forsythe went horizontal, and made a highlight-worthy catch. Not bad for his first outfield foray.
The utility infielder is swinging a hot bat, and was asked to played the outfield to keep him in the lineup. Forsythe received high marks for his efforts at a position he hadn't played as a professional.
"I thought Logan did a nice job," Padres manager Bud Black said. "He looked comfortable out there because his mind is in the right spot. He's embraced the role and he wasn't tentative. He didn't worry about making mistakes. He just went out and played baseball, which is why he did so well out there on Saturday."
Playing the outfield was something Forsythe was prepared for. The possibility was broached this offseason, so Forsythe enlisted first-base coach Dave Roberts -- a standout outfielder in his playing days -- to show him how.
Forsythe fared well, and remains confident in his ability to perform when called upon.
"Repetitions make you comfortable, and I took mine in the offseason," he said. "The more time I spend out there, the better I'll get."
Black has made an effort to keep him in the lineup. Entering Sunday, he's hit .267 with a home run and six RBIs in five games since returning from the 60-day disabled list. He was put there with a nasty bout of plantar fasciitis that flared up this spring.
While Forsythe has primarily played second base with Jedd Gyorko on the 15-day disabled list due to a groin strain, Black said he may end up back in the outfield on occasion.
"It's possible," Black said. "We'll see how it all shakes out, but there will be days where we just want him in the lineup. The outfield gives him a chance to do that."
Scott Bair is a contributor to MLB.com. This story was not subject to the approval of Major League Baseball or its clubs.