Headley adjusts to seeing more offspeed pitches
Headley adjusts to seeing more offspeed pitches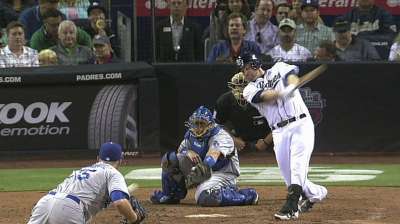 SAN DIEGO -- After striking out in his first three at-bats Thursday, Chase Headley came up with a run-scoring single in the seventh inning of the Padres' 6-3 victory over the Dodgers.
"It always feels good to get a big hit, especially when things haven't been going great," Headley said.
Headley went into Friday night's game against the Dodgers hitting .222, including a .167 mark in June. He has yet to find the success he had a year ago when he led the National League with 115 RBIs.
Headley said he's been fed a steady diet of offspeed pitches that have given him trouble, although those are coming at different times and in different counts.
"There has been a lot of offspeed stuff, but there are not a lot of teams that are following the same pattern of pitching to me," he said.
Take Thursday's game. Headley struck out in the first inning and again in the fourth inning. When he came to bat in the fifth inning, he figured the Dodgers would keep throwing him offspeed pitches, because that had worked against him earlier in the game.
"But then they threw me all fastballs," Headley said.
Still, despite his struggles Thursday and, on a larger scale, this season, Headley found some solace in getting a hit in the seventh inning that gave the Padres a little extra breathing room.
He just wishes there would be more of them.
"It felt good, but you don't want them to feel that good because it means you haven't done it enough," he said.
Corey Brock is a reporter for MLB.com. Keep track of @FollowThePadres on Twitter. Jamal Collier is an associate reporter for MLB.com. This story was not subject to the approval of Major League Baseball or its clubs.