Blanks sits out with tightness in back
Blanks sits out with tightness in back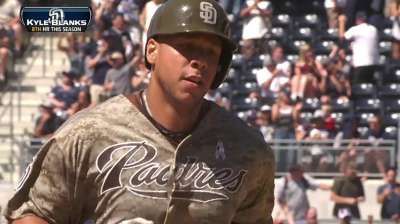 SAN DIEGO -- First baseman Kyle Blanks was scratched from the Padres' lineup before Saturday's game against the Dodgers because he was experiencing some tightness in his back.
It didn't happen after one play, but rather was cumulative for the 6-foot-6, 265-pounder.
"Kyle plays hard," Padres manager Bud Black said. "He told me this has happened before, and usually it resolves itself very quick."
Mark Kotsay replaced him in the fifth spot in the lineup and at first base.
The Padres are hoping the injury is a one-day problem that can be solved by treatment and rest. Blanks didn't hit or take any fielding practice Saturday.
He has been the team's primary first baseman while Yonder Alonso is on the disabled list. Blanks is hitting .269 with eight home runs and 27 RBIs in 51 games.
"Hopefully he's in there tomorrow," Black said.
Jamal Collier is an associate reporter for MLB.com. This story was not subject to the approval of Major League Baseball or its clubs.