Gyorko tests leg with swings, grounders
Gyorko tests leg with swings, grounders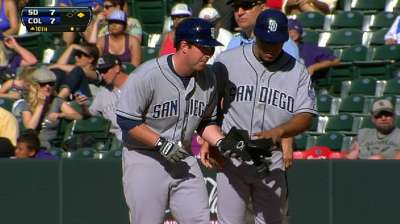 MIAMI -- Jedd Gyorko felt some improvement in his right leg Saturday after Padres trainers examined him Friday. The second baseman experienced tightness while running the bases Wednesday in a rehab game with Double-A San Antonio.
Gyorko planned to test his leg by taking swings and fielding grounders before the Padres' game against the Marlins on Saturday.
"I can still feel it a little bit, but I think it's definitely getting better," Gyorko said of the tightness.
San Diego manager Bud Black added: "He's feeling better, so he's on the field today."
Gyorko said he did not feel discomfort when playing in the field. He exited Wednesday's rehab game two innings after first experiencing the tightness, trying to stretch a first-inning single into a double.
"We haven't really devised any sort of schedule yet," Black said. "We're going to see how the next couple of days go. We'll continue to progress him and then we'll have something a little more definitive."
As Black said Friday, there was still no timetable set for Gyorko's return Saturday. Gyorko echoed his manager's words.
"It's hard to put a timetable on it, because you're not sure how it's going to react," Gyorko said.
Gyorko has been on the 15-day disabled list since June 10 with a strained right groin he sustained in an 8-7 loss to the Rockies the previous day.
"It's definitely a lot better than what it was then," Gyorko said.
Black added: "According to Jedd, what he experienced in San Antonio was not nearly what he experienced in Colorado."
Joe Morgan is an associate reporter for MLB.com. This story was not subject to the approval of Major League Baseball or its clubs.