Cabrera's rehab expected to be short
Cabrera's rehab expected to be short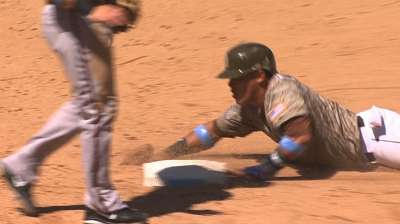 MIAMI -- The Padres are hopeful that injured shortstop Everth Cabrera could rejoin them as early as Thursday in Boston after a brief rehab assignment with Class-A Fort Wayne next week.
San Diego manager Bud Black says the Padres' tentative schedule has Cabrera joining the Tincaps on the road in South Bend, Ind., on Tuesday or Wednesday.
Cabrera is eligible to be reinstated from the 15-day disabled list Tuesday. He has been sidelined since June 19 with a strained hamstring.
"We still think he's a couple of days away from playing in a game," Black said.
Cabrera went through another workout Saturday before San Diego's game against Miami at Marlins Park. The 26-year-old said he felt 80 percent healthy Friday.
"We want to make sure that he's ready to go when he goes to play," Black said Saturday. "He's doing well. He's going to go through another good day today. He's going to run today."
Joe Morgan is an associate reporter for MLB.com. This story was not subject to the approval of Major League Baseball or its clubs.