Blanks' influence strong in Padres' good June
Blanks' influence strong in Padres' good June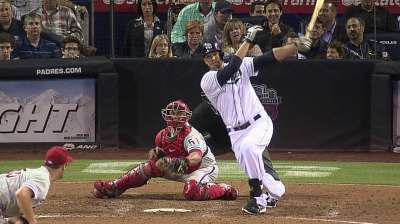 MIAMI -- Despite his last name, Kyle Blanks has been anything but a hole in the Padres' lineup.
Entering Sunday, he was batting .284 (29-for-102) with five home runs, 18 RBIs, seven doubles and 16 runs scored in 26 games during June.
"Some of it's a product of consistent at-bats," Blanks said. "I think a lot of it's just when I've been getting good pitches to hit, I haven't missed too many of them."
Even in a performance like his 0-for-4 night with three strikeouts in Saturday's 7-1 loss to the Marlins, Blanks took advantage of a good pitch from Jacob Turner.
Leading off the top of the second, Blanks sent a 1-2 curveball to the deepest part of Marlins Park, flying out to the warning track in front of the center-field wall that stands 481 feet away from home plate.
While Blanks came up empty against Turner, good swings like that do not become outs in most Major League ballparks.
"Especially at this level, when you see those mistakes, you know you definitely need to be put in play and put in play hard," Blanks said.
But Blanks' influence has extended beyond June. San Diego is 26-19 with the 26-year old in the starting lineup at various positions and 14-22 without him.
Padres manager Bud Black identified Blanks as a key cog in San Diego's recent hot streak. The club boasts the third-best record in the Majors since April 24 at 35-26.
But Blanks was quick to share credit, chalking up the Padres' success to the team's strong clubhouse attitude.
"The chemistry we have as a team plays a huge part," Blanks said. "Everyone here roots for everybody else. Everyone here truly does get along and really likes to come in here every day and play together.
"It's something you can't buy, and it's not easy to cultivate, but I think teams like this, just everyone in here doing their part is a big reason why we've been so successful."
Joe Morgan is an associate reporter for MLB.com. This story was not subject to the approval of Major League Baseball or its clubs.