Gyorko to begin running before setting return
Gyorko to begin running before setting return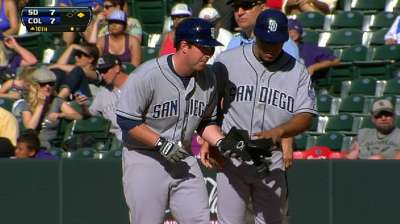 MIAMI -- The Padres are taking a cautious approach with injured second baseman Jedd Gyorko, who is on the 15-day disabled list with a strained right groin.
Gyorko will be back on the field Monday to do some running. He took swings and fielded grounders prior to Saturday night's loss to the Marlins.
He said Saturday that his leg was getting better.
"As far as any short-term plan, we're going to wait and see how the next few days unfold as far his leg," San Diego manager Bud Black said. "We're going to run him [Monday], see how he's doing.
Gyorko experienced right leg tightness in a rehab game with Double-A San Antonio on Wednesday while trying to stretch a first-inning single into a double.
While the pain Gyorko felt last week with the Missions was not nearly as severe as what he felt when he sustained the right groin strain June 9 in Colorado, San Diego did not want to risk further injury to the rookie second baseman.
"There's no definitive plan for Jedd playing any games soon with the next handful of days," Black said. "We've got to get the leg back to feeling obviously 100 percent, because we don't need to see what happened last week. We don't need to see that happen again."
Joe Morgan is an associate reporter for MLB.com. This story was not subject to the approval of Major League Baseball or its clubs.