Grandal playing well through Miami homecoming
Grandal playing well through Miami homecoming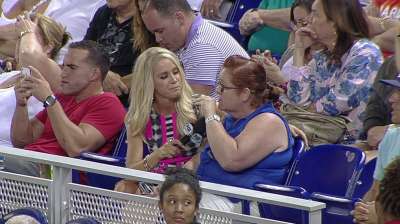 MIAMI -- Monday may be San Diego's fourth day of a 10-game road trip, but Yasmani Grandal feels right at home. The Miami product has been cheered on by his mother watching from the crowd during the Padres' four-game series against the Marlins.
"It's always good to play in front of family," Grandal said. "It feels great to be here and being able to play in front of them. It's been a pretty good weekend."
Grandal also managed to reconnect with Jim Morris, his former coach at the University of Miami. Grandal batted .401 with 15 home runs and 60 RBIs and finished second for the Golden Spikes Award in his final season under Morris in 2010.
"I haven't seen him in a while," Grandal said. "We got to talk a little bit and talk about last season and how they did and the expectations next year. I obviously follow them a lot."
Familiarity has led to continued improvement for Grandal, who is batting .380 (8-for-21) since June 20, raising his batting average from .179 to .234 entering Monday's game.
Grandal was 2-for-5 with three walks and three runs scored in two starts against Miami on Friday and Sunday. He started at catcher and batted sixth on Monday.
The 24-year-old credits his improvement to increased at-bats. Two inflamed tendons in the middle finger in his left hand prevented him from picking up a bat and swinging during the winter.
"[I'm] getting a feel," Grandal said. "[I'm] getting my body under control."
The switch-hitter aims to continue improving his average with a special focus on left-handed hitting. This season, he is batting .231 left-handed compared to his .279 career average when swinging lefty.
"I've been swinging it from the right side better than the left side, and that's really unusual for me," Grandal said. "I'm trying to get my lefty swing back on track."
Joe Morgan is an associate reporter for MLB.com. This story was not subject to the approval of Major League Baseball or its clubs.