Padres choose not to call up fresh arm from Minors
Padres choose not to call up fresh arm from Minors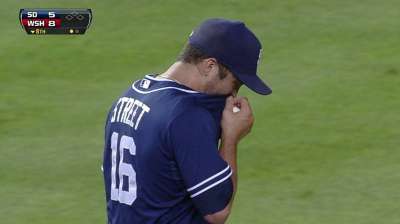 WASHINGTON -- Despite using their bullpen to soak up six innings in Friday's loss to the Nationals, the Padres elected not to call up a fresh arm from the Minor Leagues for Saturday afternoon's contest.
After Andrew Cashner lasted two-plus innings on Friday, Tim Stauffer went three frames before Joe Thatcher, Dale Thayer and Huston Street went one apiece. Stauffer will be the only reliever unavailable on Saturday, according to manager Bud Black. Right-hander Tyson Ross, who threw 42 pitches in 1 1/3 innings on Thursday in Boston, could pitch if needed.
"We're fine," Black said. "I think Tyson's gonna be all right today. He had a day off yesterday and he'll bounce back today. We still feel as though all the other guys in the 'pen are going to be OK, with the exception of Stauff."
Beginning with Jason Marquis' outing on June 25 against the Phillies, Padres starters have lasted 4 1/3 innings or fewer five times in 10 games, including three of the past four.
Considering that workload and the conditions in Washington, where the temperature on Saturday was a humid 90-plus degrees, Black said the team would keep its relievers off the field as much as possible before the game. Pitchers like to get a lot of throwing in as part of their daily routines, but in this case, they are being encouraged to "throw as little as they can."
Andrew Simon is a reporter for MLB.com. Follow him on Twitter @HitTheCutoff. This story was not subject to the approval of Major League Baseball or its clubs.