Black praises Ross' mechanics
Black praises Ross' mechanics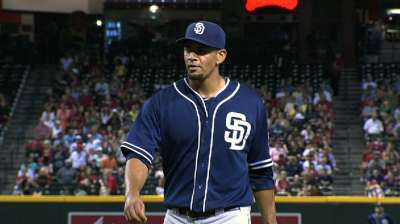 SAN DIEGO -- The thing that impressed Padres manager Bud Black the most about the career performance from starter Tyson Ross on Sunday was his delivery and how good he was mechanically.
"Tyson has that short stride, little funky in the back the way the ball comes out of his glove," Black said. "Big guy with a short stride."
The 6-foot-6 Ross repeated it all day long to stifle the D-backs through eight shutout innings. Even with the heat during the day in Phoenix, Ross wasn't fazed, and Black credited that to solid mechanics and an effective slider.
"The ball came out, and even from the side until the ball got in the hitting area I didn't know what it was going to be," Black said.
Ross was one of only four Padres starters since 1995 to allow three or fewer hits with seven or more strikeouts in eight innings.
"It's a great confidence builder," Black said. "Somebody told me once, if you do it one time, you can do it again."
Jamal Collier is an associate reporter for MLB.com. This story was not subject to the approval of Major League Baseball or its clubs.