Maybin closing in on rehab stint
Maybin closing in on rehab stint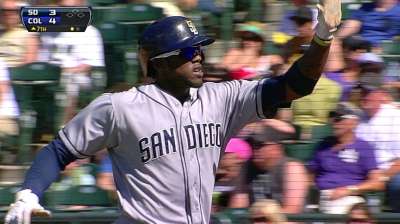 SAN DIEGO -- The Padres are discussing what's next for center fielder Cameron Maybin, who has been out since June 9 with damage to a ligament in his left knee.
Maybin is progressing well with his rehabilitation, and manager Bud Black liked what he saw on Monday.
"He's moving around like he's getting real close," Black said. "Might even be joining that [Triple-A] Tucson team before too long."
Maybin injured his knee after landing on it while attempting to catch a fly ball on June 9, just four games after he returned from 45 games away with a right wrist injury.
He hasn't had much of a 2013 season as the injuries have limited him to just 14 games and 51 at-bats. Maybin is hitting .157 with one home run, five RBIs and four stolen bases.
"I think the key is for him to get back on the field and play the rest of the season healthy," Black said. "How he plays, his legs are a big part of his game and speed, and the wrist is hopefully not a factor."
While the Padres saw good things from Maybin, there hasn't been much progress with outfielder Kyle Blanks and the tendinitis in his left heel.
Blanks became eligible to come off the 15-day disabled list on Saturday.
"It's sore. The doctors looked at it today and said it'll be a couple weeks," Black said.
Black wasn't even sure what exactly Blanks would be able to do in a couple weeks, but guessed that he is unlikely to be playing games in the Majors any time soon .
Jamal Collier is an associate reporter for MLB.com. This story was not subject to the approval of Major League Baseball or its clubs.