Hundley on call as fatherhood nears
Hundley on call as fatherhood nears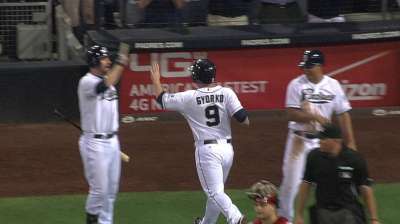 DENVER -- By the time you read this, Padres catcher Nick Hundley could still be in the team's lineup -- or he could just as easily be scurrying off to the airport to catch a flight to San Diego.
Hundley's wife, Amy, was due to give birth to the couple's first baby on Sunday.
But that did not happen, which was probably just fine with Hundley, who would have had a tougher time trying to get home to San Diego from Cincinnati -- where the team played a series over the weekend -- than from Denver.
"You're anxious about getting home if you need to," Hundley said. "But I think that it's harder on her ... not knowing. This is such an unbelievable thing; you're bringing someone into this world, and you want to do it as a family."
Hundley was in the starting lineup Monday against the Rockies for the first of three games at Coors Field. The team is set to fly back to San Diego after Wednesday's afternoon game. By then, Hundley might be a dad.
"I can't wait," he said.
If Hundley has to leave, the Padres will add a catcher, because Rene Rivera is the only other catcher on the 25-man roster. The Padres currently have 39 players on the 40-man roster, so they would not have to make any tough roster decisions to add a player.
If Hundley leaves during a game, manager Bud Black will press someone into duty as the emergency catcher.
"It's going to be an ambush call," Black said, joking.
The Padres would most likely use Logan Forsythe in a pinch behind the plate. Black said there was another in-house option -- 5-foot-8 utilityman Alexi Amarista.
"We've talk about Alexi, too," Black said, smiling. "He's a small target."
Corey Brock is a reporter for MLB.com. Keep track of @FollowThePadres on Twitter. This story was not subject to the approval of Major League Baseball or its clubs.