Black: Quentin has 50-50 chance at return
Black: Quentin has 50-50 chance at return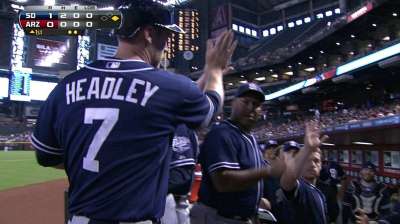 SAN DIEGO -- Padres manager Bud Black put the chances of a Carlos Quentin return this season at 50-50.
The right-handed hitting left fielder, who leads the club in on-base percentage and RBIs this year, has been battling a strained right knee that landed him on the disabled list Aug. 10.
"I wish I could be more confident than that, but I think the next week we'll have a better handle on it," Black said.
Quentin is in the midst of a 10-day rest period without much activity, and if his knee barks upon his return to action, the club will almost certainly shelve him for the rest of the year.
Quentin, who has not seen game action since July 30, has played in just 82 of the club's 124 games this season, hitting .275 with 13 homers.
"It's frustrating mostly for Carlos -- he wants to play -- and obviously for us, because he's a good player," Black said. "It would be good to have him. But right now the knee's not letting him do the things he needs to do."
AJ Cassavell is a reporter for MLB.com. Follow him on Twitter @ajcassavell. This story was not subject to the approval of Major League Baseball or its clubs.