Decker, Hynes scheduled to play winter ball
Decker, Hynes scheduled to play winter ball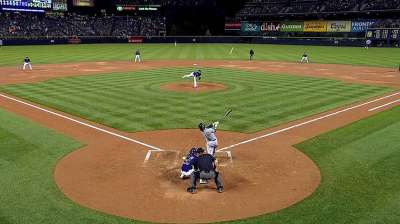 SAN DIEGO -- With the end of the Minor League season in sight and the Padres' regular-season finale not too far off either, there are a few players whose season won't end once that final pitch is thrown.
On Wednesday, San Diego manager Bud Black confirmed that outfielder Jaff Decker and left-handed reliever Colt Hynes will play winter ball this offseason.
Decker, who will head to Venezuela along with assistant hitting coach Alonzo Powell, said he's eager for the chance to tinker with his mechanics without the day-to-day pressure of a big league season.
"Obviously, all my focus is on this right now," Decker said. But I'm trying to do whatever I can for the coaches -- whatever they ask."
Black also mentioned utility man Logan Forsythe and center fielder Cameron Maybin, who has been hampered by a knee injury since mid-June, as winter ball possibilities.
Jesus Guzman and Alexi Amarista will also head back to their native Venezuela, and Black said he expects them to play in the esteemed Venezuelan Winter League as well.
AJ Cassavell is a reporter for MLB.com. Follow him on Twitter @ajcassavell. This story was not subject to the approval of Major League Baseball or its clubs.