Padres emphasize pitching in coming callups
Padres emphasize pitching in coming callups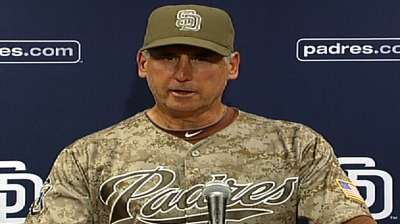 SAN DIEGO -- Pitching reinforcements will constitute the majority of the Padres' September callups, manager Bud Black said Friday. While a position player, maybe two, will be part of the mix, Black said the primary additions would supplement the pitching staff and most likely have already been on the Major League club.
"It will probably be some guys that you have seen before," Black said. "There might be a guy or two that you haven't seen. We are still sort of working our way through that. There is still a little bit of time left in their season."
Black added that while the club likes to reward players in the organization with the late-season promotion, there were other factors to consider, including clubhouse chemistry.
"From a player's perspective, it sort of validates their performance for the year by coming up," Black said. "It's that fine line that you don't want to bring up too many guys, because it sort of disrupts a little bit of the clubhouse. There will be some pitchers to help our relievers and help our starters. Maybe a position player or two, but a lot of the guys here now are the guys we want to see play."
With over a week to decide which players to add to the roster, Black said the club would take its time making the selections.
Tim Powers is a contributor to MLB.com. This story was not subject to the approval of Major League Baseball or its clubs.