Gyorko smoothing out statline in August
Gyorko smoothing out statline in August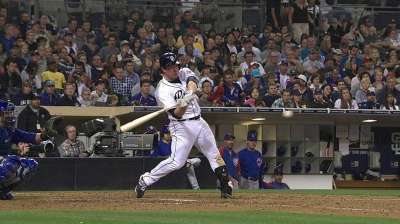 SAN DIEGO -- Padres second baseman Jedd Gyorko insists he has not quite rediscovered the early-season groove he felt prior to sustaining a June groin injury that kept him out of action for a month.
But Gyorko's recent numbers tell another story.
With his two-homer game Friday night -- the first of his career, Gyorko moved past Braves catcher Evan Gattis for the rookie home run lead with 16. Entering play Saturday, Gyorko's August slugging percentage (.676) and OPS (.962) were his highest of any month.
"I was chasing some balls out of the zone when I first came back, and that was getting me in trouble," Gyorko said. "I was getting myself out in hitter's counts."
After returning from the groin injury July 12, Gyorko struggled, hitting just .100 without an extra-base hit in 50 July at-bats.
He attributed his poor showing at the plate to a lack of comfort in the batter's box -- something that no longer seems to be plaguing him.
"When your timing's not right, nothing seems to be going right," Gyorko said. "You're not seeing the ball as long as you'd like; you jump at the ball a little bit. Just let the ball travel to you."
AJ Cassavell is a reporter for MLB.com Follow him on Twitter @ajcassavell. This story was not subject to the approval of Major League Baseball or its clubs.