Quentin opts for surgery, eyes healthy spring
Quentin opts for surgery, eyes healthy spring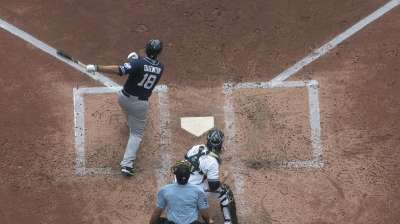 PHOENIX -- For someone headed toward his third surgery on his right knee in the past 18 months, Padres outfielder Carlos Quentin certainly didn't sound as down in the dumps Wednesday as one might expect.
That's because Quentin -- who turned 31 on Wednesday -- is optimistic that this next procedure will lead to a stronger knee, allowing him to remain on the field longer than he has in his first two years with the team.
"A week ago, there were concerns about the overall health of the knee," Quentin said. "It seemed bleak then. Today, it feels a lot better than all of us expected. That was a good sign.
"I think we have a better chance at a better outcome."
Quentin said he'll likely have surgery on the knee in the next week or so to help ensure he's ready to go at the start of Spring Training in February.
Since being traded to the Padres on Dec. 31, 2011, Quentin has played in 168 games with the team.
He had surgery to repair his meniscus during the first week of October last season and the recovery from that procedure lingered into Spring Training, limiting him to just four games. This surgery will be done in the patella area of the knee.
"We knew last year it lingered, it put me behind the eight-ball going into Spring Training. The hope here is to have it strong and ready to go as early as possible, to go into Spring Training healthy and have the best chance for success in 2014," Quentin said.
This particular surgery will entail the removal of loose fragments, removing scar tissue and cleaning up any loose cartilage, Quentin said.
Quentin, who finishes the season with a .275 average, 13 home runs and 44 RBIs in 276 at-bats, felt pain in the knee on July 28 when he caught his cleat in the dirt on an "aggressive swing." Two days later, he felt additional pain running down the line.
Quentin signed a three-year contract extension in July 2012. He's making $9.5 million this season and will make $9.5 million in 2014 and $8 million in 2015. There's a mutual option for 2016 worth $10 million. He also has a full no-trade clause.
San Diego manager Bud Black said that even though Quentin's knee felt better in the last week or so, he was likely two weeks away from returning to the field if he continued on the rehabilitation route. After Wednesday's game, the Padres have 29 games remaining in the season.
Quentin felt changes he made in his stance earlier this season, getting him to stand more upright, taking more pressure off his right knee, is something that helped him and will continue to do so. And as much as he didn't want his season to end early, he's looking ahead to a better 2014.
"I'm optimistic. If you asked me a week ago how I felt about it, I wasn't as optimistic. This improvement over this last week has given me a lot of hope that I'll have an optimal chance to stay on the field and be healthy for the season."
Corey Brock is a reporter for MLB.com. Keep track of @FollowThePadres on Twitter. This story was not subject to the approval of Major League Baseball or its clubs.