Procedure reveals more serious injury for Maybin
Procedure reveals more serious injury for Maybin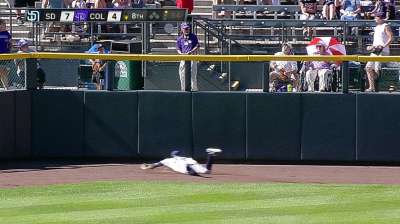 SAN DIEGO -- Outfielder Cameron Maybin underwent surgery on his right wrist on Friday, and the procedure revealed that he had an injury to his triangular fibrocartilage complex (TFCC), which could increase his rehabilitation period to as long as 12 weeks.
This likely won't affect Maybin as he prepares for Spring Training, although it could throw a wrench in his plans to get some at-bats this offseason playing winter ball somewhere.
"He'll do nothing for the next eight weeks," said manager Bud Black. "So if he's doing baseball activities [after that], there's still a shot at winter ball."
Maybin was emphatic earlier in the week that he wants to get some at-bats before the team reports to Arizona for the start of Spring Training in mid-February.
"I really want to get some at-bats," Maybin said, "but there's no benefit to beating myself up over it. It wasn't like my body was breaking down. Things happen you can't control."
The TFCC ligament is located on the side of the wrist below the small finger and can cause chronic pain, something Maybin has had the last two seasons.
"It explains the pain and soreness he was feeling off and on the last couple of years," Black said.
Corey Brock is a reporter for MLB.com. Keep track of @FollowThePadres on Twitter. This story was not subject to the approval of Major League Baseball or its clubs.