Padres' instructional league in DR more than baseball
Padres' instructional league in DR more than baseball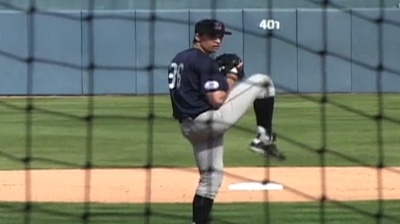 ATLANTA -- The Padres are putting a unique spin on their annual instructional league this fall, both in terms of location and in the experience it will offer for many of their top Minor League prospects.
Starting on Sept. 25, many of the organization's top prospects will head to the team's complex in the Dominican Republic for three weeks of baseball instruction and much more.
With renovations still ongoing at the team's Padres' Spring Training complex in Arizona, the organization decided to move the instructional league to the Dominican Republic with the intent on helping players get better and exposing them to a different environment.
This is about more than just baseball.
"It was born out of necessity, but one of the benefits of it is it will be a fantastic experience, baseball and otherwise, for everyone involved," said Randy Smith, the Padres' vice president of player development and international scouting.
"We will have everyone at the complex all day, we'll be able to work with them and then we'll also get them out to do some work in the community. We want to make this something they'll remember. And they'll get to see where many of their teammates come from."
Players report on Sept. 24, with the first day of workouts scheduled the following day. The last day for the instructional league is Oct. 17.
Most of the players are still in the lower levels of the Padres' system, including two of the Padres former first-round Draft picks, left-handed pitcher Max Fried (2012) and outfielder Hunter Renfroe (2013).
Fried is considered the Padres' top prospect, according to MLB.com. Renfroe comes in at No. 8.
Under Smith and his staff, the Padres have been out front on bridging the gap between Latin American players and their American counterparts. The team offered English language classes for players, which isn't unusual, but has actually offered Spanish classes for staff and coaches to help communicate with players.
Now the Padres are taking many of their top prospects, roving instructors and coaches to their facility in Najayo, San Cristobal, to their 15-acre complex, which opened in 2008 at a cost of $8 million.
For many of the American-born players, this will be the first trip out of the country. That holds true for 18-year-old infielder Josh Van Meter, who was drafted in the fifth round this past June. Van Meter has only been to his native Indiana, Arizona and Florida before now.
"It's going to be a humbling experience. A great experience, not just for baseball but culturally as well," said Van Meter, who is from Ossian, Ind. "We ask the Dominican guys to come to America, now we get to see what their life is like.
"I think that that we grow up in a pretty good environment compared to a lot of those guys. It will show us what they have to go through to get here."
Corey Brock is a reporter for MLB.com. Keep track of @FollowThePadres on Twitter. This story was not subject to the approval of Major League Baseball or its clubs.