Retiring Kotsay receives signed stick from Crosby
Retiring Kotsay receives signed stick from Crosby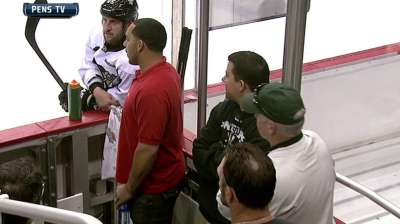 PITTSBURGH -- On his farewell tour in Pittsburgh, Padres outfielder Mark Kotsay, along with teammates Yonder Alonso, Rene Rivera and head trainer Todd Hutcheson, went to Consol Energy Center to watch the Pittsburgh Penguins practice. Kotsay will retire at the end of the year after 17 big league seasons.
"We enjoyed ourselves," Kotsay said. "The Penguins franchise is an amazing franchise, and the new facility is state of the art. It was a great day and we got to meet one of the best players in the game, Sidney Crosby, and he didn't disappoint, for he is an amazing young man and talented, obviously. It was all good, all those guys over there spent time with us. It was a great day for us."
Late in the afternoon, Kotsay was surprised to receive a signed Crosby hockey stick that was sent over to PNC Park.
"An unexpected gift, yes, very nice," Kotsay said. "That was way too kind, and it just says who Sidney Crosby is as a person, and it was amazing that he took the time out of his day to do something kind of cool for my going-away gift."
George Von Benko is a contributor to MLB.com. This story was not subject to the approval of Major League Baseball or its clubs.