Alonso feels pain day after taking swings
Alonso feels pain day after taking swings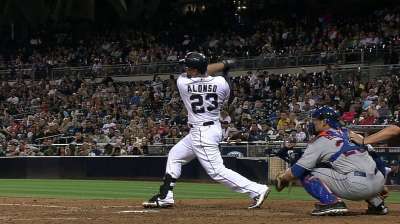 PITTSBURGH -- Padres first baseman Yonder Alonso (sore right hand) was hurt Aug. 30, and he hasn't played since. An MRI exam Sept. 3 found an inflamed tendon, and he received an injection in the hand. He hit in the cage on Monday.
"I took some swings in the cage," Alonso said. "Took some swings off the tee, then decided to go ahead and take some swings and I'm just trying to let it rest a little bit now for a day."
After taking those swings, Alonso was in pain on Tuesday.
"It was a bit sore the next day," he said. "I've still got a little lump on my hand and swelling, so it's just a matter of letting it cool down for a little and continue the process again."
Alonso still harbors hopes of getting back in the lineup before the season ends.
"I think on Thursday I'm going to go at it again and hit," Alonso said. "It's just a process of swelling that needs to go down and continue from there.
The down time has been tough on Alonso.
"It's been a very frustrating couple of weeks," he said. "Obviously, with the injury, but those are things you can't dwell on, you've got to think about the positive and the positive notes. I'm still trying to come back and I'm still trying to swing and it's not a shutdown season. I'm just going to continue to fight it."
George Von Benko is a contributor to MLB.com. This story was not subject to the approval of Major League Baseball or its clubs.