Cedeno's play a positive sign for next year
Cedeno's play a positive sign for next year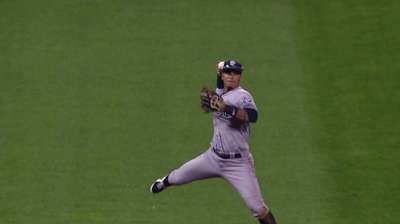 PITTSBURGH -- Shortstop Ronny Cedeno continues to make a solid case for a roster spot next year -- with the Padres or another team. He collected three more hits on Tuesday and is batting .300 in 34 games with the Padres after going 0-for-4 with two strikeouts in a 10-1 loss to the Pirates on Thursday.
Tuesday was Cedeno's second three-hit game since joining the Padres in August. He also has flashed some leather.
"It's such a premium position, shortstop, and to get Cedeno, Josh Byrnes our GM did such a good job getting him on our club," Padres manager Bud Black said. "You can't go without a good defender and a shortstop that knows how to play the position.
"Cedeno has been great, he's playing inspired, he's playing really, really well. He's swinging the bat, but more importantly he's making plays, and that's what talk about everyday with him, is make plays. This is a good sign for him moving forward. We'll see how the winter goes, but he's making a statement."
Cedeno, 30, knows this audition with the Padres is important at this stage of his nine-year career.
"For me, it is very important to finish this week and a half that's left strong and to play hard and play good defense," Cedeno said. "That's what I think right now, because I don't know what's going to happen next year, I don't know if I'll be here or somewhere else. But it's very important for me to take care of my career for next year."
George Von Benko is a contributor to MLB.com. This story was not subject to the approval of Major League Baseball or its clubs.