Grandal pleased with rehab progress
Grandal pleased with rehab progress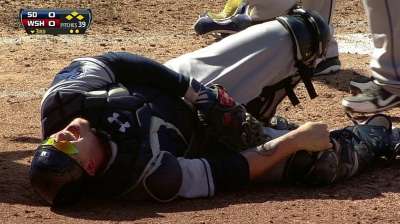 SAN DIEGO - It has only been six weeks since Padres catcher Yasmani Grandal has reconstructive surgery on the anterior cruciate ligament in his right knee, though that hasn't stopped him from thinking about Spring Training.
Isn't that a little soon, especially for a surgery that typically requires nine to 12 months of rest, recovery and rehabilitation?
"Some guys recover faster than others," Grandal said Saturday.
Grandal said he's ahead of schedule in terms of his rehabilitation and that he's already doing strength exercises for the knee that include squats and leg presses. On Saturday, he was scheduled to ride a stationary bike for 35 minutes.
"I can't wait to start running," he said, smiling.
Grandal hasn't played since July 6, which was the day he suffered a nasty injury to his knee while he protected the plate as Anthony Rendon of the Nationals took out his legs attempting to break up a double play, a play that everyone deemed as clean.
Grandal had surgery a little over a month later. The surgery was performed by orthopedist Dr. James Andrews, who performed similar surgeries on Vikings tailback Adrian Peterson and Redskins quarterback Robert Griffin III.
"It's coming along really well," Grandal said. "I'm expecting to play ... no matter what they say. I know I'm going to be able to do something [in Spring Training], I'll definitely be running, cutting, catching drills."
Grandal's main concern, as a catcher, is getting the knee strong enough to withstand squatting for an extended period of time.
"If I can do that, it's a piece of cake," Grandal said. "But the big deal is staying down there for prolonged periods of time."
Despite Grandal's optimism, the Padres are taking a wait-and-see approach and aren't willing to put a time frame on if and when Grandal might be ready for Spring Training.
"I'm cautiously optimistic about him being ready for a great deal of activity in Spring Training," said San Diego manager Bud Black. "My advice to Yazzy is to stay on the timeline of the rehab program."
Grandal was suspended for the first 50 games of the season for elevated levels of testosterone. He came back to the team on May 28 and hit .216 with one home run and nine RBIs in 88 at-bats.
It was a far cry from the impression he made in 2012, when he hit two home runs in his first start and hit .297 with eight home runs and 36 RBIs in 192 at-bats.
Corey Brock is a reporter for MLB.com. Keep track of @FollowThePadres on Twitter. This story was not subject to the approval of Major League Baseball or its clubs.