Quentin looks to hit the ground running in 2014
Quentin looks to hit the ground running in 2014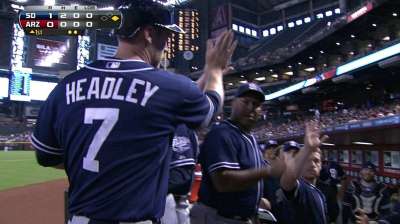 SAN DIEGO -- Nearly three weeks removed from season-ending surgery on his right knee, Padres outfielder Carlos Quentin said Sunday that's he's already getting the itch for 2014.
Part of that, he said, was how well surgery went on on Sept. 3, when he had particles removed from around his patella tendon.
It was Quentin's third surgery on the knee since he was traded to the Padres on Dec. 31, 2011.
"If you could rate the three surgeries I've had, this was by far the best of the three," he said. "I'm really encouraged. This gives me a good chance in 2014 for having a productive year."
As he did last offseason, when he had surgery on the same knee days after the end of season, Quentin will again try to cut some weight this winter and hasn't ruled out hiring a personal chef for the second time.
Padres hitting coach Phil Plantier got Quentin to stand more upright in the batter's box this season, thus alleviating pressure on the knee, and the slugger believes that change will help keep the knee healthy.
"I think the stance change will help me a lot," Quentin said.
In July, Plantier talked about the change in Quentin's stance.
"Right now, the most important thing is to keep him healthy. This wasn't done for the short term, but for the rest of his career," Plantier said. "It alleviates the pressure he had getting deep down [in his stance].
"When you get deep into your legs, there's benefits to it. But his body is worn down from it. Once you get used to doing it this way, it's going to allow him to play more games."
Corey Brock is a reporter for MLB.com. Keep track of @FollowThePadres on Twitter. This story was not subject to the approval of Major League Baseball or its clubs.