Cedeno better, but out of Tuesday's lineup
Cedeno better, but out of Tuesday's lineup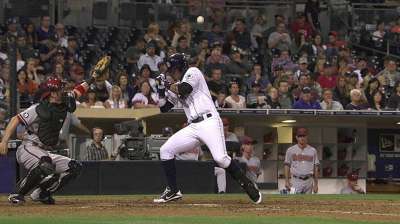 SAN DIEGO -- A day after being struck in the head by a fastball, Ronny Cedeno's status had improved, but only slightly. The Padres' infielder said he still felt "a little foggy" and was out of the lineup for Tuesday's game against the D-backs.
Cedeno left the game on Monday after D-Backs reliever Heath Bell hit him flush in the side of the head in the seventh inning. Cedeno had some tests done, but was certain he would not be able to play on Tuesday.
"I'm better than yesterday," Cedeno said. "It hit me pretty good. I don't think I'm going to do anything today. I have a little bit [of a headache], a little foggy."
Bell said later that the pitch got away from him, and was apologetic.
"The pitch just got away and if I happen to see him, I'll say I'm sorry," Bell said.
Padres manager Bud Black said the team would stay away from using Cedeno on Tuesday, per the advice of team doctors.
"He's still a little woozy," Black said. "He has got a headache. We are going to keep him out of the lineup and stay away from him, per doctor's orders. He's not doing great."
Alexi Amarista was in the lineup at shortstop for the Padres on Tuesday, and Logan Forsythe, who is battling a foot injury, could play in a pinch, as well.
Tim Powers is a contributor to MLB.com. This story was not subject to the approval of Major League Baseball or its clubs.