Black confident Cedeno will return this year
Black confident Cedeno will return this year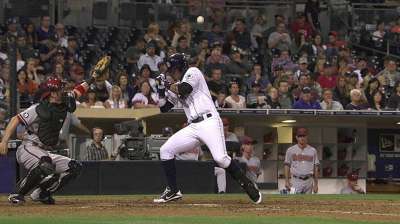 SAN DIEGO -- Although Padres infielder Ronny Cedeno remained out of the lineup Wednesday for the second consecutive day, still trying to shake off the effects of being hit in the head with a pitch on Monday, manager Bud Black sounded confident the 30-year-old will play again sometime over the final four games of the season.
"He's moving around a little better," Black said. "Hopefully, he'll get back in there."
Cedeno left Monday's game after D-Backs reliever Heath Bell hit him on the side of the helmet in the seventh inning with an 89-mph pitch. Before sitting out the last two games, he played every day since Aug. 27, hitting .286 with two homers and eight RBIs over that span.
"Whatever term you want to use, I guess the simplest term is his head hurts, he's got a headache," Black said. "There is still some ramifications from being hit that are not quite over, so we'll try to stay away from him tonight."
Tyler Emerick is an associate reporter for MLB.com. This story was not subject to the approval of Major League Baseball or its clubs.