Robinson still excited after first hit in 'great night'
Robinson still excited after first hit in 'great night'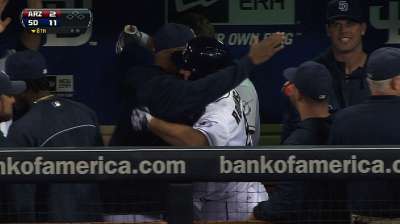 SAN DIEGO -- A few hours removed from his electrifying three-run pinch-hit homer for his first Major League hit Wednesday, Padres catcher Chris Robinson was still glowing Thursday afternoon, unable to hold back a smile when discussing his memorable evening.
"My phone didn't stop ringing until 3 a.m. San Diego time," the London, Ontario native said. "Then it started up again a couple hours later when people back home began waking up. It was a great night."
Hitless in five at-bats prior to the long ball Wednesday, the veteran of nine Minor League seasons desperately wanted to collect his first base knock before the year ends Sunday, but he never anticipated how it would eventually come.
"I might've been pressing a bit; you just want to get on the board and actually have a batting average," Robinson said. "Obviously, I'm happy with the way it worked out."
Though there are only three games left on the schedule after Thursday, Robinson isn't looking ahead to what this time in September means for him moving forward. He just wants to soak in as much of the experience as he possibly can and consider the rest later.
"I promised myself wouldn't think about that until I was done," Robinson said. "It's kind of funny actually, most of the guys are tired, so I think I might be one of the only ones who wants the season to keep going. But when it's over, I'll go back home to see my wife and kids, I'll get to be a full-time dad again."
Tyler Emerick is an associate reporter for MLB.com. This story was not subject to the approval of Major League Baseball or its clubs.