Black likely to witness departure of Giants duo
Black likely to witness departure of Giants duo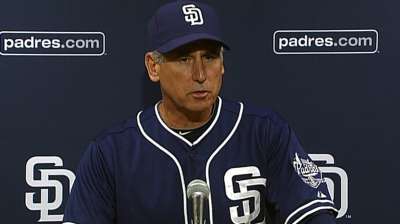 SAN FRANCISCO -- Much of the speculation out of San Francisco has centered on the offseason fates of Barry Zito and Tim Lincecum. With Zito being a prime candidate to receive a club buyout and Lincecum expected to test free agency, Padres manager Bud Black tried to envision the NL West without the two Giants pitchers.
Black joined the Padres in 2007, the same year Zito and Lincecum made their Giants debuts. For what it's worth, Black said he would be surprised if the Giants could not strike a deal to bring back Lincecum next year.
"I think that's going to happen," Black said. "But, hey, if it didn't, I'd hope that we get in line. ... He'd be interesting."
Alex Espinoza is a contributor to MLB.com. This story was not subject to the approval of Major League Baseball or its clubs.