Padres wrap up month of strong pitching
Padres wrap up month of strong pitching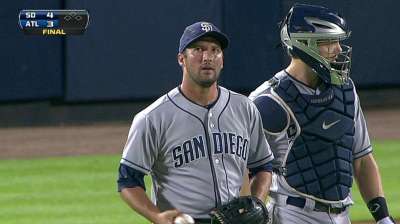 SAN FRANCISCO -- Since the calendar flipped to September, there has been no better pitching staff in baseball than San Diego's. Manager Bud Black knew his team was performing well on the mound lately, but even he was surprised to hear his team's 2.75 ERA entering Friday was tops in the game this month.
"See? You guys got some info," Black told a small group of reporters before Friday's nightcap against the Giants. "When you lead the Majors in pitching in a month, you're going to win. You're going to win Major League Baseball games."
Lighthearted analysis aside, the affable manager was quick to credit his bullpen -- contributors like closer Huston Street (2.38 ERA), Nick Vincent (2.20) and Joe Thatcher (2.10). The Padres have been out of contention in the NL West for a few weeks but have still fared well against playoff-bound competition, recently winning series against the Braves and the Pirates.
The team also entered the final series against the Giants having taken three out of four against the D-backs. As Black also pointed out, the team has played better than .500 ball (70-69) since stumbling to a 5-15 record to start the season.
"We've been throwing the ball as good as we have all year," Black said.
Alex Espinoza is a contributor to MLB.com. This story was not subject to the approval of Major League Baseball or its clubs.